Arsenal boss Arsene Wenger backs Olivier Giroud to flourish
Last updated on .From the section Football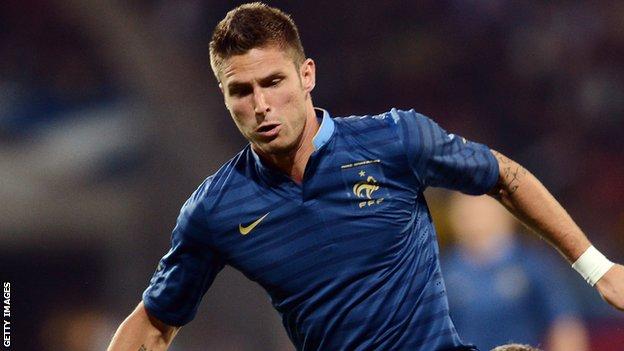 Arsenal manager Arsene Wenger is confident that Olivier Giroud will be a big hit at the club next season.
"I think he has exceptional potential and will integrate very well in our collective and our way of playing," said Wenger.
"He is a real team player and knows how to combine with other players and I'm sure he will do well with us."
The 6ft 3in forward scored 21 goals in his club's run to the Ligue 1 title.
So far during Euro 2012 the 25-year-old has made three substitute appearances.
Fellow striker Lukas Podolski, who is set to join Giroud at the Emirates, has also impressed Wenger.
Speaking to French TV station TF1 he said: "Podolski did a great job for the German team, he has superb team work.
"He plays in a cautious way sometimes, but he's still scored a very important goal against Denmark on his 100th cap.
"I am very happy with what I've seen from him."
Wenger intends to play him alongside fellow new signing Giroud and Dutch striker Robin van Persie in a front three next season.