Euro 2012: Scott Parker bears no grudge against Mario Balotelli
Last updated on .From the section Euro 2012
Scott Parker will not let his clash with Mario Balotelli affect his preparations for England's Euro 2012 quarter-final with Italy.
The Italian received a four-game ban for his indiscretion.
"I am not holding any grudges. It's football - this is what happens in football," Parker said.
"Whether Balotelli meant to do what he did or not, I don't know.
"He got punished for it and obviously has served his punishment. That was just part and parcel of football."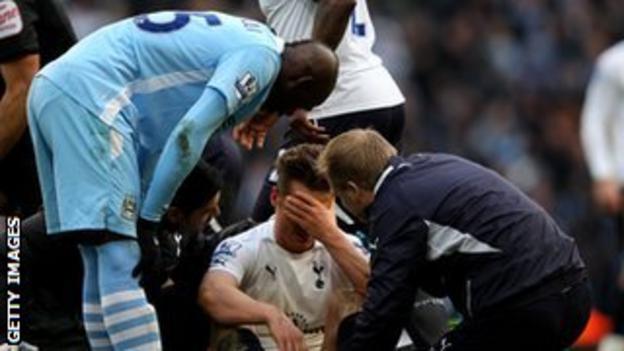 While Balotelli's presence in the Italian team is seen as a divisive factor by many Azzurri supporters, England have benefited from having a united party.
Battling victories over Sweden and Ukraine have been good for team spirit, and Parker said: "I think we have a real togetherness and commitment in the squad and ultimately that can get you a long way.
"We've seen that last year with Chelsea and other teams. I think, fundamentally, they are the main key ingredients of why we can go and progress further, albeit it's going to be a very tough game against an Italian side that are very well prepared and organised with individual qualities.
"If we carry on doing what we are doing we can maybe upset them."
If England are to book a surprise place in the semi-finals at the Euros, Parker and his midfield partner Steven Gerrard need to ensure Italian playmaker Andrea Pirlo is denied time on the ball - a task he is relishing.
He said: "As a kid and when you play football, you want to pit your wits against the best and Pirlo is one of those.
"The clips I have seen of him in this tournament, his passing ability, his control of the game is fantastic. I am really looking forward to the game. You always look forward to playing against the best."
Defender Glen Johnson suggests the relaxed atmosphere at England's Krakow base is helping getting the best out of the players.
Their isolated camp in South Africa was proposed as a contributory factor to a dismal showing in the 2010 World Cup.
The Liverpool right-back said: "It's a different environment and different members of staff but it's another major tournament and we're trying to do well, just like we did in South Africa. That didn't turn out too great but we're positive at the moment and we're hopeful."