Pompey Supporters Trust launches rival bid to Chainrai
Last updated on .From the section Football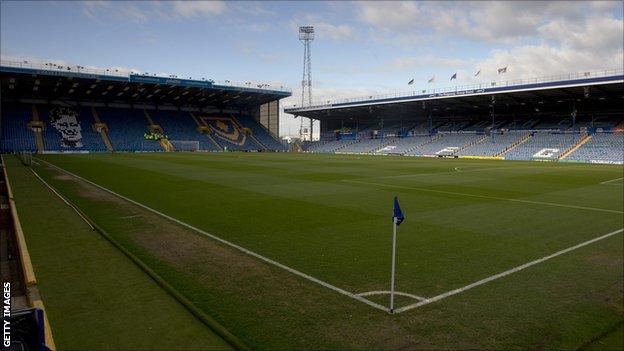 The Pompey Supporters Trust has submitted a rival offer to take control of financially-troubled Portsmouth to administrator Trevor Birch.
Insolvency firm Begbies Traynor has confirmed to BBC South that it has finalised a bid on behalf of the PST.
Former owner Balram Chainrai is also looking to buy the club as part of a Company Voluntary Agreement.
His company, Portpin, has submitted a proposal to pay the League One club's creditors two pence in the pound.
The PST's offer has not been disclosed but if Birch accepts the bid creditors will now have an alternative to Hong Kong businessman Chainrai, who formerly owned the club in 2010-11 and is personally owed about £19m.
"There is a creditors meeting scheduled for Monday when any bids for the club will be reviewed," said Rosemary Penn-Newman, from Begbies Traynor Group.
"Whichever bidder ends up in the driving seat there will still be lot of work to do to ensure a successful completion, the most important of which is continuing the on-going negotiations with the creditors."
Pompey are currently £58m in debt after previous owners Convers Sports Initiatives went into administration.
The list of creditors also includes Revenue and Customs, which is owed £2.3m, and they will vote on Monday at Fratton Park whether to accept either CVA proposal.
Last week, lawyer Anthony Fanshawe from Begbies Traynor warned creditors to "get real" or Portsmouth faced being liquidated.
The Professional Footballers' Association is potentially claiming nearly £24m from Pompey, but Fanshawe said a compromise was needed on that figure.
Supporters have been pledging a minimum of £1,000 to help support the bid while the Trust recently revealed they had attracted five 'high net worth' individuals who had offered over £1m.
"If we are given the opportunity by the creditors to take over PFC we aim to bring an end to the severe financial mismanagement of recent years and ensure it never happens again," said Ashley Brown, Chair of the PST and leader of the bid team.
"While the proposal from the PST cannot right all those wrongs, we do believe we offer the best future for the club and community."
Portsmouth City Council leader Gerald Vernon Jackson said he welcomed the news of a second bid, although confirmed it was not done in conjunction with the local authority.
"I'm glad a deal has been done even though we won't be able to help the PST because of the discrepancy over the valuation of the ground," Jackson told BBC South.
Jackson added they hoped in the long run the PST would work with Chainrai for the long-term future of the club and to ensure football continued to be played at Fratton Park.