Michael Laudrup turning on Swansea City style
By Simon Davies
BBC Radio Wales
Last updated on .From the section Football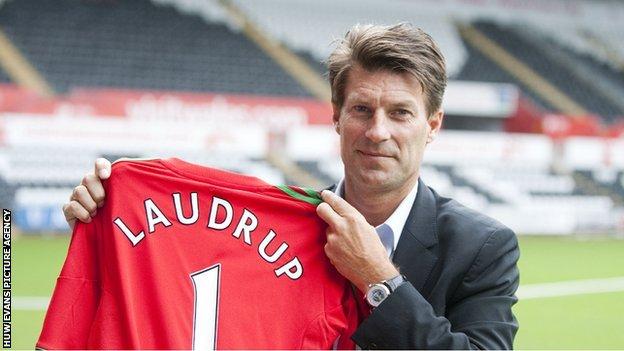 Swansea City has had its fair share of stylish and charming managers over recent years and on the evidence of his first press conference Michael Laudrup is no different.
Roberto Martinez, Paulo Sousa and Brendan Rodgers brought their own sophistication and panache to the Liberty Stadium, but at Thursday's press conference even the most hardened hack seemed star-struck at the appointment of a true legend of the game.
"It was surreal, you're sat there covering a Swansea City press conference as you've done for so many years and there in front of you is a legend who you grew up watching. It's just wonderful," said Matt Lloyd of the Mirror.
The Swansea City success story is one of British football's great fairy-tales. Over 10 years ago, a fan-led board headed by Huw Jenkins took control of a club on the brink of extinction.
So back in those days just the idea of the club being in the Premier League and appointing a world great such as Laudrup was inconceivable.
But top-flight status has not changed things, you find that out when you talk to the stalwarts at the club from the chairman down to the kit lady. There is a heart about Swansea City, a refreshing approach which Laudrup has already found out for himself.
"Things here are done quietly and with common sense - something I really like and appreciate," said the former Denmark captain, one of the great attacking midfielders of his generation.
Laudrup turned 48 when his appointment was confirmed last week. That explains, perhaps, why he didn't make the trip to south Wales before agreeing to join!
Yet regardless of his lack of knowledge of Swansea as a place, the former Denmark captain has done his homework on the city's football team at least, watching countless DVDs of Swansea games and seeking advice from people such as Danish great Peter Schmeichel, the former Manchester United goalkeeper.
Laudrup also says he can count on the guidance from two former Swansea managers, having worked alongside John Toshack in the media and his old friend and Denmark team-mate Jan Molby, another huge favourite with Swansea fans, "And he's bigger than I am!" jokes Laudrup.
Most of the big name, national football writers are currently away on Euro 2012 duty, but even so the Liberty Stadium press room was still packed to the rafters. Of course, the usual Welsh press boys were there (a Swansea unveiling has been standard fare for them in recent years) but a noticeable Danish contingent were there too.
"He's among one of the greatest sportsmen ever in Denmark," says Holder Rasmusen of Denmark Radio. "A huge star, so expect a lot of Danish tourists in Swansea, it's like following the royal family - he's revered that much!"
Ultimately, football is about results and most of the fans accept that emulating last season's Premier League finish of 11th place will be a tall order for their new manager.
Rodgers brought success and style to Swansea. Laudrup's name alone certainly brings the latter, fans will be hoping for the rest of it too.