Zambia's Mayuka eyes Brazil World Cup qualification
By Kennedy Gondwe
BBC Sport, Lusaka
Last updated on .From the section Football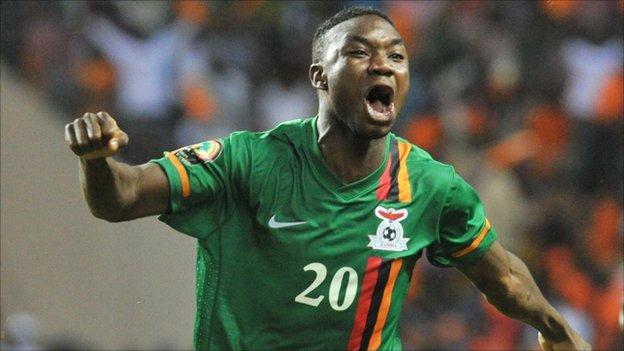 One of Zambia's African Nations Cup heroes has underlined qualification for the next World Cup as the team's main objective.
Emmanuel Mayuka, whose goal eliminated Ghana from the 2012 finals, is desperate to be a part of Brazil 2014.
"Everything is possible in this world. I believe we can go all the way and qualify," Mayuka told BBC Sport.
"No disrespect to the other teams but we now know each other so well because we've been together for a long time."
Africa's footballing minnows have smelt blood as the bigger guns have lost their way, but Mayuka is unperturbed.
"I believe in our ability as a team, and our mentality towards games hasn't changed," he says.
In the eyes of many Zambians, the 22-year-old striker is one of the players who represent the future.
Four months after lifting the Nations Cup trophy, Mayuka has become a household name but refuses to let fame get to his head.
"I'll always be myself," says Mayuka, who opened his scoring account at the Nations Cup in Zambia's 2-1 triumph against Senegal.
"It doesn't matter whether I'm an African champion or not; I'll always be me. I'm still the same guy that everyone knows."
Just five years ago, Mayuka was playing in the Zambian domestic league.
But a move to Israel side Maccabi Tel Aviv in 2007, after participating in the under-20 World Cup finals in Canada, marked his rise to stardom.
"I don't think winning the Africa Cup has come too soon for me; it's something that was meant to happen.
"I've come a long way in football and life generally.
"My career has changed a lot from the time I moved to Europe; I'm still learning and going forward.
"I have a lot of time to improve and work on my talent."