Euro 2012: Mario Balotelli 'not driven by doubters'
Last updated on .From the section Euro 2012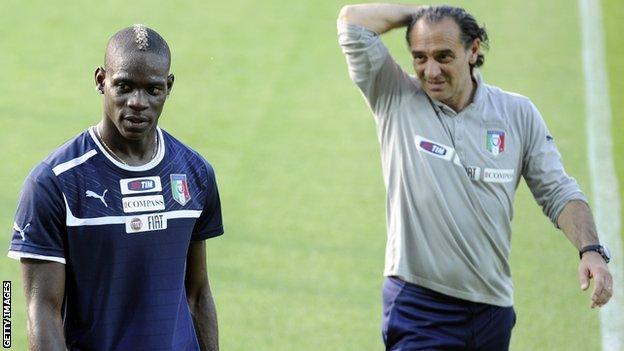 Italy striker Mario Balotelli says he has nothing to prove as he prepares for the Euro 2012 quarter-final against England on Sunday.
The Manchester City forward was dropped for the Republic of Ireland game but came on as a substitute to score in Italy's 2-0 win.
"I don't have to show anything to anyone, not to England, not to Italy and not to anyone," said Balotelli.
"I'm not a Super Mario or a Stupid Mario, I'm just Mario."
He added: "It was important for me to score because I had been trying to do that in the previous two games but hadn't managed it.
"But it's not a case of the handbrake being off now, I scored a goal and that can happen."
Balotelli's agent Mino Raiola described the 21-year-old as Peter Pan, while his international team-mate Daniele De Rossi said the forward was maturing.
"I think these are metaphors for Mario the person, not Mario the footballer. I think I'm a man - I don't think I need to say it, but I am," said Balotelli.
"I could be Peter Pan in that I do things my own way and I'm very free, but I think I'm more of a man than Peter Pan."
Balotelli could return to the starting line-up at the expense of Antonio Di Natale, which would pit him against several of his Manchester City team-mates in Joe Hart, Joleon Lescott and James Milner.
"I hope it's going to be a good match and I think it will be fun to play against my team-mates," he added.
"They know me and I know them, I just hope it's going to be nice and fun. I don't expect anything, I hope we win because I want to win and even though they're team-mates, I hope they lose."
Italy coach Cesare Prandelli was giving no clues to his starting line-up but knows his side will have to break down Roy Hodgson's disciplined England side.
"We're prepared, we've studied England and discovered that they're one of the most organised European teams, more so than others who have this reputation," said Prandelli.
"They average 38-39 metres between the lines [the distance from defenders to attackers] so we'll have to break up their rhythm.
"We'll have to match their intensity but I'm convinced that if we can play with tempo then we can play a great match."
Former Chelsea manager Carlo Ancelotti hopes the unpredictable striker starts against England.
"Balotelli is a fantastic player and playing against England will be special for him," Ancelotti said.
"He scored against Ireland and I think he is confident and improving. He has the talent and ability to play in the first eleven. I don't know what the team will be but I hope he will play."