Rangers Q&A: newco player contract transfers

By Alasdair Lamont
BBC Scotland
Last updated on .From the section Football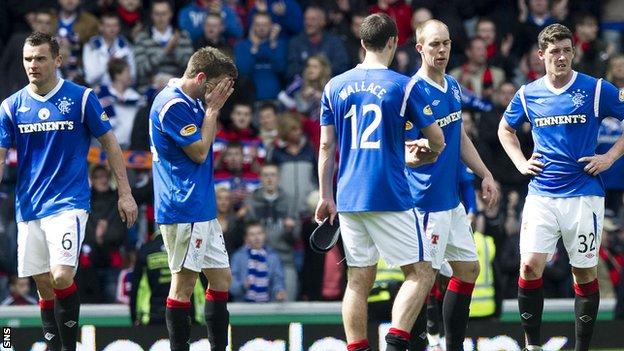 So far, four Rangers players have lodged formal objections to their contracts being transferred from the old Rangers to the 'newco'.
But any player who tries to force a move away could face legal action, newco chief executive Charles Green has warned.
Green will meet with PFA Scotland representatives on Monday to discuss the situation, with the union likely to argue the choice is a matter for players.
Here we try to explain the varying arguments this situation throws up and examine how it might end.
Q: Can players lawfully object to their contracts being transferred?
A: This is fundamental to the debate, with the key parties involved holding contrasting views. The players have been advised that under The Transfer of Undertakings (Protection of Employment) Regulations 2006 or TUPE, they can transfer to the newco, but are not obliged to.
So, Steven Naismith, Steven Whittaker, Rhys McCabe and Sone Aluko, the first players to object, are exercising their right under those regulations.
Q: But doesn't the chief executive of the new Rangers, Charles Green, believe the transfers have already taken place as part of his purchase of the assets of the old Rangers?
A: Yes he does and in a statement issued on Saturday, Green said the clear legal advice they had received was that "players' purported objection is ineffective" because of that.
But TUPE regulations also state that an employer intending to transfer contracts must inform and consult employees' representatives of their intention and in this case, PFA Scotland will argue that did not happen.
Q: Is there an issue over players' registrations?
A: Yes, as if this issue needed further complications. The Scottish Football Association holds the registrations for all players and to move to a club outside of Scotland (as most, if not all, players who may decide to leave Rangers would likely do) an international transfer certificate (ITC) must be issued.
According to Fifa, who have been consulted by the SFA over this matter, it is for the SFA to "decide if the conditions are fulfilled for them to provide the ITC for any player, according to the relevant regulations (Regulations on the Status and Transfer of Players)".
Only if there was a dispute (and this is highly likely to be the case) could Fifa be asked to mediate.
Q: Charles Green says they will take "whatever steps necessary to challenge what we regard as a breach of contract to protect the interests of our club" should players not transfer across. What are his chances of success in getting compensation or indeed preventing players from leaving?
A: Fifa's regulations state "a contract signed between a player and a club may be prematurely terminated by either party without consequences of any kind where there is just cause" but whether there has been just cause is examined on a case-by-case basis.
Andy Webster's ground-breaking case, resulting from his acrimonious move from Hearts to Wigan, has been cited as a possible precedent. But the reasons for the players' terminating their contracts are so different it is difficult to deduce much from Fifa's decision to order Webster to pay Hearts compensation.
Q: Is there a deadline by which Rangers players will have to inform the club of any objections?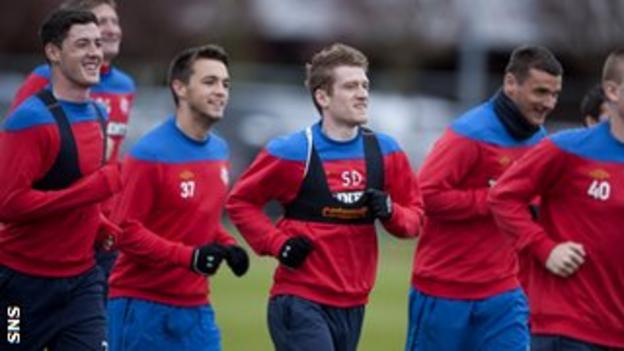 A: Technically no, but in practice this coming Thursday is a crucial day.
That is when the players have been asked to return to training and also the day they are due to receive their first monthly wage since the newco was formed.
Employment law specialists believe that if players were to turn up for work, or indeed accept their salary, that would weaken their case if they wished to object to the transfer at a later date. So it is highly likely that by Thursday at the latest, we will have a good idea of which players intend to transfer to new Rangers and which intend to leave.
Q: Aren't players and their agents just using this as an excuse to get out of their contracts so they can secure lucrative deals elsewhere?
A: That is one interpretation certainly. If the players are free agents, they might be able to command a bigger signing-on fee and better wages than they would under normal circumstances.
Rangers manager Ally McCoist said on Friday he was aware of agents touting the players around clubs. Views on this are very subjective, as the players can argue they did their bit for the club by agreeing to 75% wage cuts back in March and given the uncertainty over which league, if any, Rangers will be playing in this season, they are entitled to secure the best deal for themselves.
Q: But couldn't they transfer to the newco and then leave, which would at least earn the club some much-needed revenue?
A: Again, that's a possibility. Top players like Steven Davis negotiated clauses in their contracts that allowed them to leave for a fraction of their market value, but even the £1.6m Davis would command would be better than nothing for Charles Green's Rangers.
The issue for some players, though, is that they have received no communication from Green and with huge uncertainty still surrounding the new owners' financial wherewithal and their intentions for the club, players may be reluctant to see them benefit.
It's also worth bearing in mind that Green stated in his prospectus for potential investors that one of the possible advantages of the newco option was a saving of up to £7m in salaries because of the reduced need to keep top players. That would suggest the transfer of contracts was simply to ensure a sell-on value for the club.