Euro 2012: Samir Nasri apologises over journalist row
Last updated on .From the section Euro 2012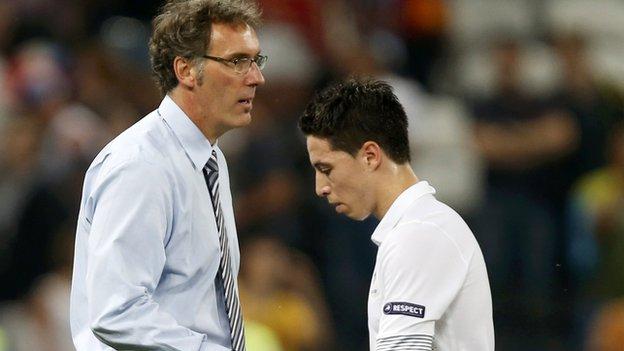 France midfielder Samir Nasri has apologised to supporters over his row with a journalist in the aftermath of their Euro 2012 defeat by Spain.
Nasri fired expletives at the reporter and repeatedly complained about the media's behaviour.
"The supporters and in particular children should know that I regret that my language may have shocked them," Nasri wrote on his Twitter page.
"I love the France team, football and I have a profound respect for the fans."
Nasri, who plays for Manchester City, did not apologise to the reporter, only adding: "It's a personal matter between some journalists and me. I will explain further when the time comes."
France manager Laurent Blanc said Nasri's behaviour was bad for the image of both the midfielder and the national team.
"It is very regrettable but it's a problem between Samir and the press," Blanc told French television.
He added: "From what I gathered, he lacked respect towards the journalist who at some point also lacked respect towards him."
The French Football Federation is due to meet next week to discuss Nasri's case.
Nasri was dropped to the bench for the defeat by Spain, coming on as a second-half substitute.
His row followed reports of friction in the French camp after the defeat by Sweden in the final group game, and meant France again exited a tournament amid controversy after a player revolt on the way to being knocked out of the 2010 World Cup.
Nasri's reaction of putting his finger to his lips in France's 1-1 draw with England in their first group game was also believed to have been aimed at the French media.
Blanc said: "I had told him what I thought about this [after the first incident] but apparently he did not get the message."