Roy Hodgson: Wayne Rooney was fit enough in Italy defeat

By Phil McNulty
Chief football writer, BBC Sport
Last updated on .From the section Euro 2012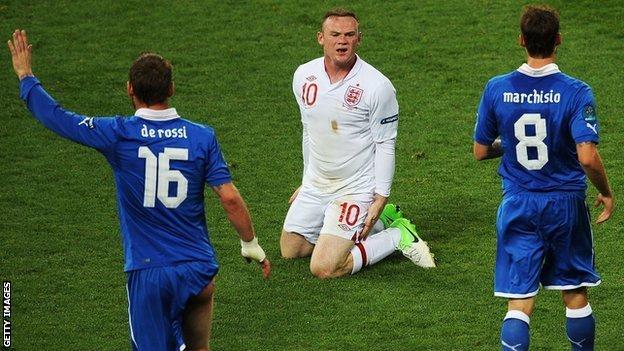 England manager Roy Hodgson insists lack of fitness was not behind Wayne Rooney's poor display in the Euro 2012 quarter-final defeat to Italy in Kiev.
Hodgson insists statistics backed up his claims that Rooney was in good shape - but admitted the weight of expectation on England's most gifted attacking talent may have been too great.
Rooney returned from a two game ban to score England's winner against Ukraine, only to deliver a below par performance in the quarter-final as Italy won 4-2 on penalties after a goalless 120 minutes.
Hodgson said: "We haven't noticed any problems with Wayne's fitness levels. We've monitored it in training and he's looked very fit."
He added: "In the first game against Ukraine he didn't show any particular signs of lacking fitness. He played 120 minutes [against Italy].
"What you might be saying is that you are a bit disappointed with his performance and maybe thought he could have played better."
Rooney was with England at their pre-Euro 2012 training camp in Krakow and travelled to the early group games in Donetsk and Kiev.
Rooney, 26, looked sluggish and out of touch in the game against Italy, but Hodgson defended him, saying: "His running stats in the training sessions and in the game were actually very good.
"Of course we put a lot of expectations on him. When he missed the first two games there was a suggestion we all believed that all we need to do is get to the third game and Wayne Rooney will win us the championship. That was maybe too much to ask of him. He certainly tried very hard.
"He didn't have his best game - I'm sure he will admit that.
"That could be down to a number of factors but I don't think the fitness itself was a particular factor."
Rooney himself was in subdued mood after another England campaign ended with defeat on penalties in the last eight, as it did against Portugal in both Euro 2004 and the 2006 World Cup.
He said: "It was a horrible way to go out. We are all gutted. It was a tough game.
"We all worked hard and to lose on penalties is a horrible feeling for everyone.
"We can hold our heads up high. There are a lot of young players in squad.
"It's a sad feeling now but that will help us going into the qualifiers for the next tournament."