Nathan Blake doubts Craig Bellamy's return to Cardiff City
Last updated on .From the section Football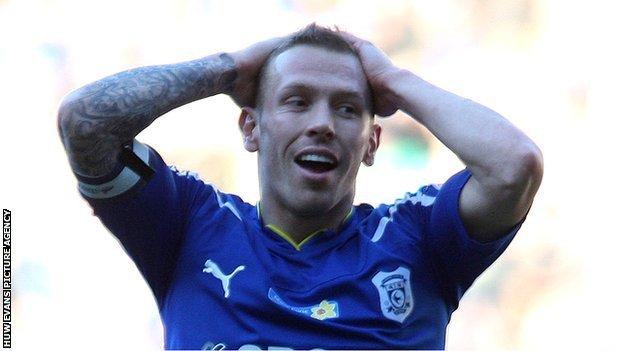 Ex-Cardiff and Wales striker Nathan Blake has doubts whether Craig Bellamy will return to the Bluebirds.
But Blake believes the former Wales captain has too much to offer Liverpool next season.
"Craig had such a good season at Liverpool I would be very surprised if he was to end up at Cardiff," Blake told BBC Sport Wales.
"But stranger things have happened and it's not beyond the realms of possibility. I wouldn't say it would be a backward step for him at this stage of his career."
And Blake believes Cardiff City need to have a player of Bellamy's pedigree if the club are to realise their dream of getting out of the Championship.
"Cardiff do need to sign some experienced players," insisted Blake.
"And they don't come more experienced than Craig. So he'd be very good for Cardiff City.
"And he's the type of player they could probably get two, three, maybe four seasons out of playing 20-30 games a season and try and build a team around him."
Blake also believes that Bellamy's relationship with Cardiff manager Malky Mackay will be unaffected despite the two being former team-mates at Norwich City.
"Craig is a type of character you've got to know how to handle. He'll always going to give an opinion," warned Blake.
"As long as Malky didn't feel threatened by that I think it would work fine.
"Malky's the manager. Craig's the player. They will both have an opinion but at the end of the day it's the manager's opinion which matters most. I don't see any problems with that relationship there."