Euro 2012: Spain and Russia face 'improper conduct' action by Uefa
Last updated on .From the section Euro 2012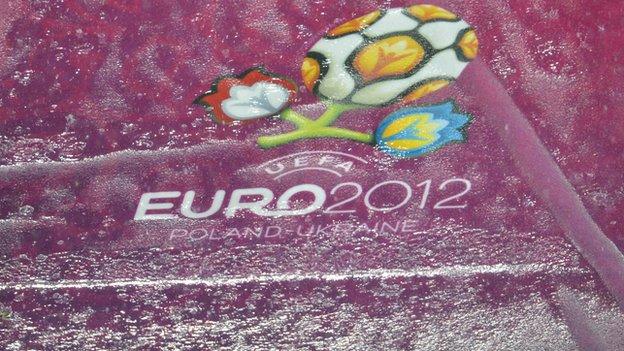 Uefa has charged the Spanish and Russian football associations for racist chanting by fans at Euro 2012.
The Spain case relates to the Italy game on 10 June, while Russia's 8 June match against Czech Republic was also under scrutiny.
Meanwhile, the Croatian Football Federation has received a £24,000 fine for the improper conduct of fans.
The Portuguese Football Federation has been fined £6,000 for the inappropriate behaviour of their supporters.
Croatia's fine [30,000 euros] relates to the game against Spain in Gdansk on 18 June, while Portugal's punishment [7,000 euros] follows an attempted invasion of the field of play by a fan at the quarter-final against Czech Republic in Warsaw on 21 June.
The cases involving Spain and Russia will be heard by Uefa's control and disciplinary body on Thursday.
Russia have been punished three times already by Uefa for the improper behaviour of their fans during the tournament.
They were given a suspended six-point deduction from their next Euro qualifying campaign and fined, due to "the setting off and throwing of fireworks and the display of illicit banners" during the opening group match against the Czechs.
Russia appealed against that punishment.
They were then fined for spectator-related incidents during their second group match against Poland, which again included the setting off and throwing of fireworks, the displaying of illicit banners and a pitch invasion by a supporter.
And on Saturday they were hit with a further fine for throwing fireworks and displaying illicit banners in their final Group A game against Greece.
The Croatian Football Federation received a fine of £65,000 last week after fans directed racist abuse at Italy's Mario Balotelli during the tournament - more than £15,000 less than Nicklas Bendtner's £80,000 fine for revealing sponsored underwear whilst celebrating a goal.
Uefa's latest charges follow reports that monkey noises were directed by Spain fans at Manchester City's Balotelli, and that Russian fans targeted Czech Republic defender Theodor Gebre Selassie.