Euro 2012: Gazzetta apologises over Mario Balotelli cartoon
Last updated on .From the section Euro 2012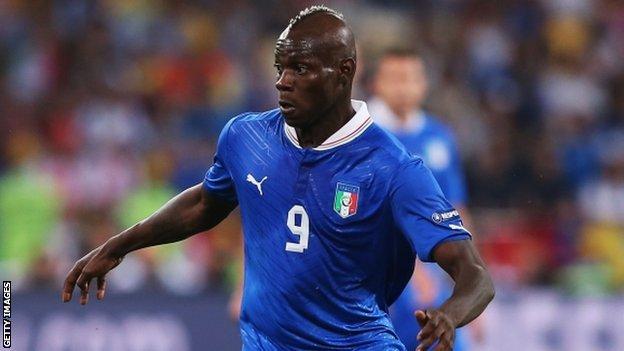 Italian newspaper Gazzetta dello Sport has apologised for publishing a cartoon depicting Mario Balotelli as King Kong.
Some readers complained about the image, which showed the striker on Big Ben, swatting away footballs after Italy's Euro 2012 win over England.
A statement from Gazzetta read: "We can honestly say it was not among the best products of our talented cartoonist.
"The newspaper is for those who read it and hence, if certain readers found the cartoon offensive, we apologise."
However, Gazzetta rejected accusations of racism against the paper or its cartoonist Valerio Marini.
"At this time, a measure of prudence and good taste are necessary because everything, absolutely everything, can be misinterpreted," the statement said.
"But those that accuse Gazzetta, and poor Marini, of racism are going overboard.
"This newspaper has fought any form of racism in every stadium and has condemned the boos directed at Balotelli as an unacceptable form of incivility."
Manchester City striker Balotelli, of Ghanaian descent, was regularly the target of racist abuse when playing in Italy.
He said before Euro 2012 that he would leave the pitch if he was racially abused from the stands.
The cartoon prompted an angry response from anti-discrimination group Kick It Out.
"Mario's very presence in the Italian team is symbolic on so many levels," a spokesman said.
"The Italian media ought to champion this individual rather than singling him out as a scapegoat and somehow inferior to his international team-mates."