Morton object to Rangers newco First Division move
Last updated on .From the section Football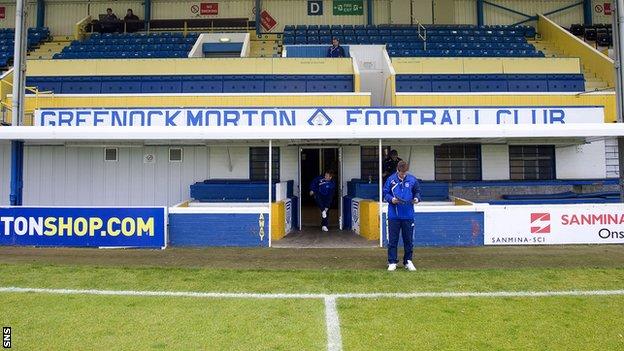 Morton are the latest club to express reservations about any possible league reconstruction that would allow a newco Rangers into the First Division.
"As things stand, we cannot vote a newco into the First Division," a club spokesman told BBC Scotland.
"The chairman Douglas Rae is keeping an open mind on the situation.
"Our view is that the normal mechanism of entry, through applying for a vacancy in the Third Division is the correct way to handle the situation."
Rangers are seeking a league to play in now that it appears certain their bid to play in the Scottish Premier League will be rejected on 4 July.
The Scottish Football League board met on Tuesday to discuss proposals, including Rangers' entry to its set-up.
A meeting of all SFL member clubs will take place next Tuesday to discuss the matter further.
Raith Rovers and Falkirk have already said they are opposed to any move that would parachute the newco club into Scottish football's second tier.
"I believe the current situation has presented us with an opportunity to consider and review the way forward for Scottish football, and as such it is more vital than ever to look at the "bigger picture" and the options for change which will no doubt present themselves over the coming weeks and months," added Rae in a later statement.
"My personal hope is that any changes arising from this tumultuous period in the history of Scottish football can be implemented for the long-term good of the game."
Newly-promoted Dumbarton will reserve comment until after next week's gathering.
"After this meeting the club will be in a position to comment and appraise Sons fans of the situation facing DFC and Scottish football in general," read a club statement.
"Subsequent to this we will seek the views of the fans given they will then be in full knowledge of the facts and ramifications of the decisions to be made."