Euro 2012: The tournament in numbers, stats and facts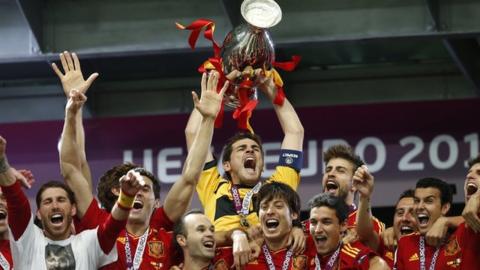 Spain's 4-0 win over Italy in the Euro 2012 final is the biggest-winning margin ever recorded in a World Cup or European Championship final.
Vicente del Bosque became the first coach to have managed a team to victory in the World Cup, European Championship and Champions League.
And on a night to remember, Spanish keeper Iker Casillas became the first player to reach a century of international wins.
Here we look back at an enthralling Euro 2012 in numbers...
How Euro 2012 added up for Spain
Spain are the first European side to win three consecutive major tournaments - Euro 2008, the 2010 World Cup and Euro 2012.
Spain are unbeaten in their last 12 European Championship final matches - nine wins, three draws - a competition record.
Vicente del Bosque's side have not conceded a goal in their last five European Championship matches, a new competition record.
Spain averaged 626.3 passes per match, more than any other team at Euro 2012 (the Republic of Ireland were 16th with 221.3).
They averaged 60.03% possession per fixture, again more than any other side in the competition (again the Republic of Ireland were lowest, with 39.52%).
Spain keeper Iker Casillas equalled Edwin van der Sar's record of nine clean sheets at the Euros.
Casillas has won 100 of his 137 international matches, becoming the first player to reach a century of international wins. He also holds the world record with 79 clean sheets.
David Silva has been involved in the most goals at Euro 2012 - two scored, three assisted.
Six players from Barcelona were in the Spanish starting line-up. This was not a record, as there were seven Dynamo Kiev players representing the Soviet Union in the 1988 final.
The final
Spain's winning margin of four goals is the biggest ever recorded in a World Cup or European Championship final.
Spain ended with 52% possession overall and outpassed Italy 529 to 451.
Juan Mata is the fastest substitute to score at Euro 2012 - one minute and 14 seconds after coming on to the pitch.
Xavi has assisted a goal for Fernando Torres in both the 2008 and 2012 finals.
Fernando Torres is the first player to score in two European Championship finals.
Spain are only the third team to have scored twice before half-time in a European Championship final - Italy in 1968 and Czechoslovakia in 1976 were the previous two occasions.
The only team other to score three or more goals in a European Championship final was West Germany v Soviet Union in 1972 (3-0).
Italy's Antonio Cassano has now been substituted eight times at the European Championship finals after being named in the starting line-up, breaking the tournament record he shared with Dennis Bergkamp and Mario Gomez.
This was the second World Cup or European Championship final in which both teams were captained by a goalkeeper. The other one was the 1934 World Cup final between Italy (Giampiero Combi) and Czechoslovakia (Franta Planicka).
The overall picture
There were more headed goals (22) than at any other European Championship finals.
There was an average of 901 passes per match at Euro 2012.
It was the first time that nobody managed to score more than three goals at a tournament since 1992.
Five of the last seven host nations have exited the tournament at the group stage, including all four of the co-hosts in 2008 (Austria & Switzerland) and 2012 (Poland & Ukraine).
Poland became the second host nation to fail to win a group stage match at the Euros, following Austria in 2008.
Greece's Giorgos Karagounis has picked up eight yellow cards in 10 appearances at the European Championships, more than any other player.
Knockout rounds
England's most frequent passing combination in their quarter-final defeat to Italy was between Joe Hart and Andy Carroll, who entered the game as a substitute after an hour.
In their match, Italy completed 815 passes to England's 320.
France had just 40.3% of possession against Spain, a record low under the now-departed Laurent Blanc, and managed one shot on target.
Miroslav Klose took his international goals tally to 64 against Greece, four short of Gerd Muller's Germany record.
Czech Republic did not manage a shot on target during their 1-0 quarter-final defeat to Portugal.
Group stage
Czech Republic striker Milan Baros spent 217 minutes on the pitch before getting a shot on target at Euro 2012.
Poland were only the second host nation to fail to win a group stage match at the Euros (after Austria in 2008).
The two matches where teams had the most shots (Netherlands 32 v Denmark, Russia 31 v Greece), saw them both lose 1-0.
Netherlands failed to win a group stage game at the Euros for the first time.
Portugal have made it to the knockout stages of the European Championship finals every time they have been present (six times).
Ireland ended their group having conceded nine goals, only Yugoslavia in 1984 let in more (10).
Wayne Rooney ended a run of 673 minutes without a goal at major tournaments when he scored against Ukraine.
Four of England's five goals at Euro 2012 came from crosses.
Andriy Shevchenko scored twice for Ukraine against Sweden despite being in possession of the ball for only 15 seconds.
Cristiano Ronaldo became the first Portugal player to score at five major tournaments (Euro 2004, 2008 & 2012 and World Cups 2006 & 2010).