Marc Pugh rejects AFC Bournemouth contract extension
Last updated on .From the section Football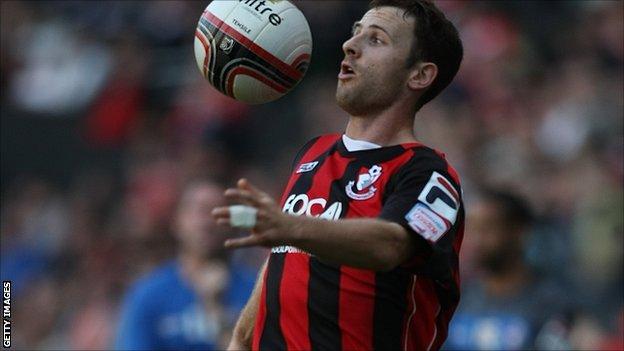 Bournemouth midfielder Marc Pugh has turned down a contract extension, manager Paul Groves has revealed.
But Pugh has told the League One club he does not wish to do so at this time.
"Marc is ambitious and wants to play in the Championship and he wants to give himself the best opportunity to do that," Groves told BBC Radio Solent.
Groves added: "You have to understand he is ambitious but he is thoroughly professional and has been a joy to work with.
"There is nothing but praise for Marc in the way he handles and conducts himself.
"We've had no approaches whatsoever and if we were to get any approaches it needs to be a significant fee.
"Marc Pugh scores goals, he makes assists and is thoroughly professional on and off the pitch."
The Cherries boss also said that he hoped the former Hereford man would still be part of his squad when the new season starts, adding: "We want to keep hold of him and have offered him a decent contract.
"There has been speculation surrounding Marc's future for six months but there have been no bids and he has handled that.
"I would not have a problem in playing Marc, there are no issues with that, he will be part of my squad.
"We don't want any offers for Marc, we want to keep hold of him. But we understand that at some point, if someone makes a good offer, and I mean a good offer, then we have a business decision.
"He has a year left, wants to play in the Championship and then we have to look at it. But I stress it has to be a good offer as he is a good player."