Egypt FA adds fine to Zidan's international suspension
Last updated on .From the section Football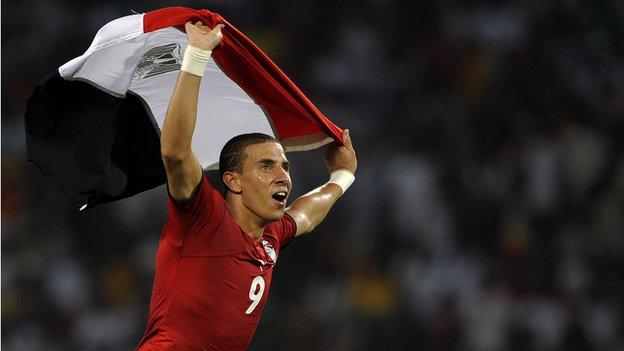 The Egyptian FA has fined suspended striker Mohamed Zidan US$11,500 after he left camp ahead of this week's 2013 Africa Cup of Nations tie in Central African Republic.
Last week, the 30-year-old was banned from playing for Egypt by the EFA while coach Bob Bradley is in charge.
This came after Zidan excused himself from the camp, claiming to be pursuing a move to China.
Zidan has twice won the Nations Cup with Egypt, in 2008 and 2010.
The decision to ban Zidan was taken by the EFA rather than Bradley, who has refused to be drawn on the issue.
"As we prepare for the second leg, everyone's full attention must be with the national team," he said.
"After the meeting with Zidan, we felt that this was not the case.
"In future we'll judge the situation as it comes but for now we need players that are committed.
"This is a difficult game and we must go with a strong group that is motivated for this match."
Egypt surprisingly trail in the two-legged tie against Central African Republic, who won 3-2 in Alexandra earlier this month to become the first team to beat the Pharaohs at home in a Nations Cup qualifier since the 1960s.
Whoever makes it through this weekend's delayed match will reach the third and final round of qualifying, which takes place in September and October.
Fifteen teams are bidding to reach January's finals in South Africa.