Cardiff City offer Sam Hammam presidency as part of debt deal
Last updated on .From the section Football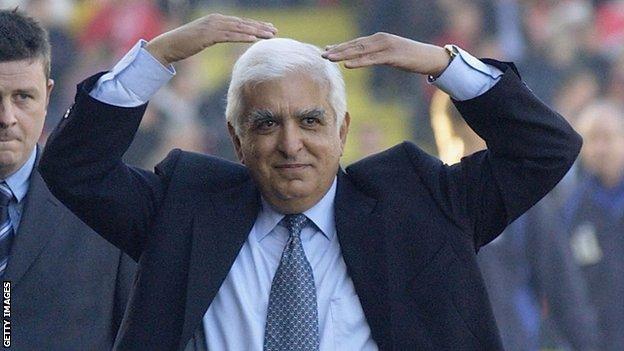 Cardiff City chief executive Alan Whiteley believes that allowing ex-club owner Sam Hammam an honorary life presidency is a necessary part of the Langston debt repayment negotiations.
Whiteley also set out the three debt clearance options offered to Langston, who Cardiff owe in the region of £15m.
Part of that deal would see Hammam return in an honorary role.
"If that's what seals the deal and makes this problem go away maybe that's a price worth paying," said Whiteley.
"For some it might not be, but principles are expensive things.
"It [would be] an honorary position. There is no power or anything else attached to it. It was part of a negotiated package.
"Then if that [the presidency offer] was the final thing which actually got the deal done and made it sensible, then Sam could certainly have been a life president of the club and would have been welcome to attend games.
"What we had always said is if we could do a deal on sensible terms and it was sufficiently friendly and amicable, that it was a deal worth doing for the club."
Controversial businessman Hammam brought an end to his six-year tenure as Cardiff City chairman in October 2006 after agreeing to sell his majority share holding.
After that former Leeds United chief Peter Ridsdale took over the role at the south Wales club.
Since then, Ridsdale has also left Cardiff following investment from the current Malaysian-based owners in 2010.
The debt to the Langston company, taken out in 2004, is upwards of £15m.
In a bid to clear that the club have offered Langston three options - £8m to be paid now, £10m with £3m paid now and the rest in May, or £13m with £8m this year and an additional £5m if Cardiff are promoted.
Whiteley revealed the details during a meeting on Wednesday with supporters, who have asked for their season tickets to be refunded because of their opposition to the club's rebranding.
"The Langston issue is a long-standing issue as everybody who follows this club would know for better or for worse," added Whiteley.
"Since the whole investment package came out it was always a fundamental plank of that that part of the funding package was to try and provide a once-and-for-all solution to the Langston problem.
"As things stand at the moment we've made Langston effectively three offers and said you can choose whichever one you want to. But these are the three offers on which we can settle it.
"They are at different ends of the scale. [The first] is a sum for effectively closure immediately.
"There is a second option which involves a down payment and then a further guaranteed payment at the end of the season.
"And there is a third option which involves a slightly lower sum but then a contingent element if we get promotion.
"They can choose from option A to C whichever one they want but those are the three options we put to them and it's currently in their court to respond. They haven't [responded] officially."