Nigeria axe Saintfiet's technical director role
By Oluwashina Okeleji
BBC Sport, Lagos
Last updated on .From the section Football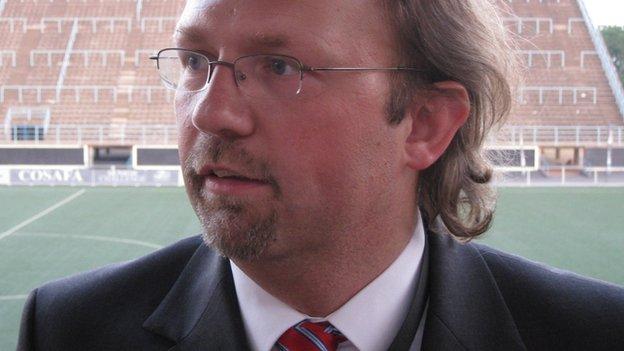 Nigeria's Football Federation (NFF) has shelved plans to appoint Tom Saintfiet as the country's technical director.
But two weeks ago, Nigerian sports minister Bolaji Abdullahi told football authorities to revoke this agreement.
On Thursday, NFF chief Aminu Maigari said there is no job for Saintfiet.
"Mr Saintfiet came for an interview as the technical director but he never signed any contractual agreement with the Nigeria Football Federation," Maigari told BBC Sport.
"He chose to talk to the media, but we have more important things to do than engage him in a war of wits."
Reminded that the football house issued a communiqué to announce his appointment, Maigari replied: "A communiqué is not an agreement nor binding contract.
"A contract has not been granted. How can you claim to have a job when nothing was agreed or signed on paper? We do not have any agreement or whatsoever with him."
Saintfiet has threatened to report the NFF to football's world governing body Fifa for going back on what he called a gentleman's agreement.
An angry and disappointed Saintfiet - who has previously worked in Namibia, Zimbabwe and Ethiopia - has also previously said he is considering legal action against the NFF.
Maigari, meanwhile, has advised the 39-year-old Belgian to stop damaging his reputation before potential employers.
"Fifa are serious-minded people and we are not overly concerned about his threat to go there," said Maigari. "Fifa will demand a contract or agreement from him, so we await his presentation in Zurich.
"We need to let him understand that his utterances and accusations will only make him look bad before those interested in giving him a job.
"Mr Saintfiet should think and focus on his future elsewhere, instead of making unfounded allegations."
Meanwhile, Nigerian sports minister Abdullahi has directed the NFF to appoint a local to do the job.
Julius Ogunro, special assistant to the sports minister, said in a statement that Abdullahi felt the decision was necessary.
Ogunro added that there are many competent Nigerians who have strong knowledge of grassroots football in the country and are better suited for the role of a technical director.