Euro 2012: Joachim Loew says Germany will learn from Italy defeat
Last updated on .From the section Euro 2012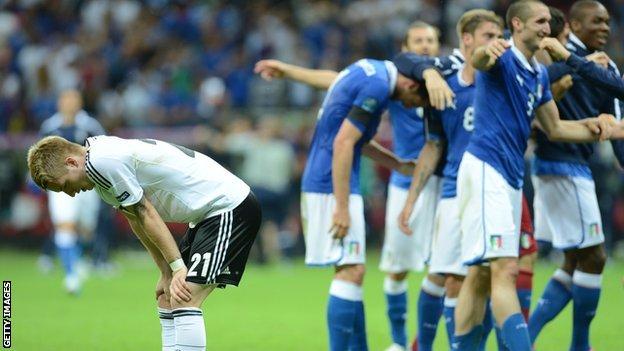 Germany coach Joachim Loew says his players are distraught after their Euro 2012 semi-final loss to Italy, but says they will learn from the experience.
"The disappointment is great. Nobody is speaking in the dressing room. The players are crying," admitted Loew.
"I'm not going to question everything we've done. The team has great quality. It will continue to develop and learn."
Loew added: "We've had two great years.
"The team has really developed well. We won 15 games in a row but lost today against an incredibly strong Italian side, with a strong axis and two great strikers.
"There's no reason to doubt ourselves. Our team was the youngest team here.
"Even though there's disappointment today, we played a wonderful tournament and I am sure we will be able to cope with this defeat."
Germany went into Thursday's semi-final confident of reaching a final against Spain on Sunday, after winning all of their matches in the competition during their run to the last-four.
But they were 2-0 down at half-time after Balotelli struck twice, and they were then unable to break down the Italian defence until the 92nd minute, through Mesut Ozil's penalty.
Having opted to rotate his front three for last Friday's 4-2 quarter-final win over Greece, Loew again tinkered with his starting line-up, but this time it backfired as Italy had the best of the first half.
Toni Kroos was a surprise inclusion and he failed to make an impact in his first start of the competition.
"I wanted to strengthen things in midfield, which is why I brought in Toni," explained Loew.
"The goals we conceded came from mistakes, because we weren't present enough around the area. The cross from which Balotelli scored his opening goal shouldn't have been allowed to happen.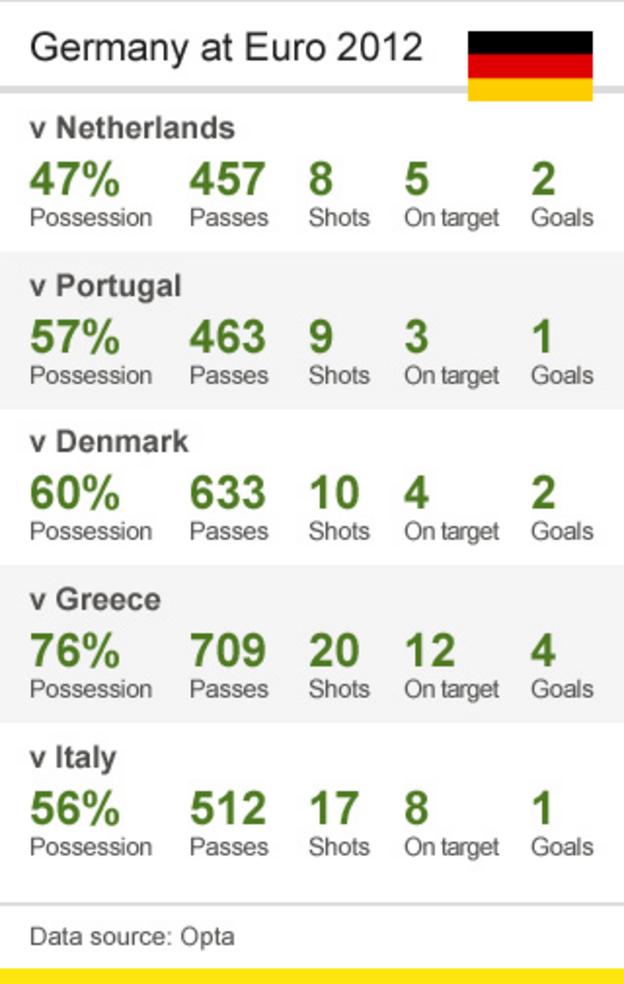 "We had things under control at the start, but after falling behind we took more risks and weren't as well organised.
"After going 2-0 down, we had to risk everything. The team showed a lot of heart in the second half, but when you find yourself 2-0 down against the Italians it is incredibly difficult."
Germany captain Philipp Lahm said: "It's very, very bitter. We made mistakes that led to those two goals. We worked hard in the first half and we had chances but you can't give up goals like that.
"Every defeat is bitter, especially after getting so far in the tournament. But if you can't get the job done at the right time or aren't clever enough in certain situations then you lose.
"The most bitter thing is that this team has so much potential for much more."
Thursday's loss means Germany's record of having never beaten Italy at a major tournament is now extended to eight matches.
The defeat also means Germany have failed at the semi-final stage for the second major tournament in a row after losing to Spain in the last four of the 2010 World Cup in South Africa. They also lost in the semi-finals of the 2006 World Cup - to Italy - and were beaten in the final of Euro 2008, again by the Spanish.
One note of optimism for Germany is that their impressive squad for this tournament was the youngest with an average age of around 24 and a half.