Brentford plan new stadium after buying Lionel Road land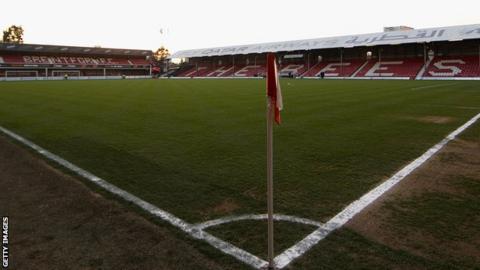 Brentford have bought a 7.6 acre site at Lionel Road with a view to building a new 15,000-seater stadium.
The League One club's owner, Matthew Benham, has paid an undisclosed fee to a housebuilding company for the site.
The Bees intend to submit plans to Hounslow Council within a year, in the hope of moving into the new ground for the start of the 2016-17 season.
Chairman Greg Dyke said: "The journey to Lionel Road has been a long one but hopefully it's now coming to fruition."
He added: "This would not have been possible without Matthew Benham and all Bees fans should be grateful for the financial support he has given the club in recent years."
The Lionel Road site, which lies between Kew Bridge railway station and the M4 motorway, was first identified as a prospective location for a new ground in 2002.
And the proposed new stadium, which is only two miles from Griffin Park, the club's home since 1904, could be increased to 20,000 capacity at a later stage.
Some residential property will also be included in the plans for the site, and more housing will eventually be built at Griffin Park.
Benham, who has completed his takeover of Bees United's shareholding and now owns 96% of the club, said he was delighted the land purchase had been completed.
"The club can now get on with preparing plans for an exciting new community stadium that will provide a great boost in terms of much needed new homes and jobs in Brentford," he added.