St Mirren signings 'unlikely' due to Rangers newco situation
Last updated on .From the section Football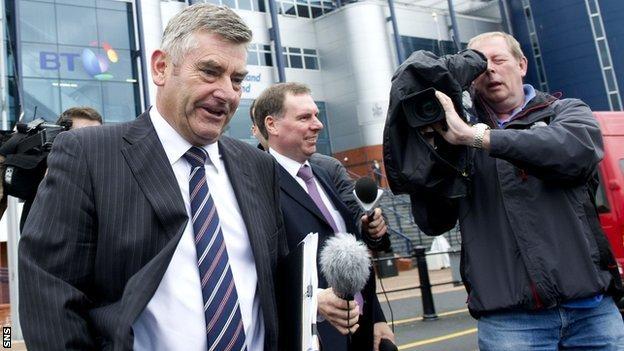 Chairman Stewart Gilmour says St Mirren are "unlikely to be signing any new players" because of uncertainties.
Gilmour fears "major cutbacks" may come as a result of Rangers' absence from the Scottish Premier League.
The Paisley club are one of several opposed to a Rangers newco replacing the old club in the SPL.
Meanwhile, Gilmour says his club will support the adoption of a 16-team top flight as Scottish football figures discuss league reconstruction.
Charles Green's Sevco group bought Rangers' assets before the company which ran the Ibrox club began the process of being liquidated because of large debts.
Green asked if his Rangers 'newco' could replace the old club in the SPL and needed the support of seven top flight clubs to be successful.
However, most SPL clubs have stated their opposition to Green's application and senior Scottish football figures are proposing that the new Rangers enter next season's Scottish Football League Division One.
Gilmour had "a very positive meeting" with Green and Rangers manager Ally McCoist last week where St Mirren's vote against a newco entry to the SPL was outlined.
"Regrettably, the commercial and hence financial impact is still not clear to the club," said Gilmour.
"We are obviously hoping that our commercial and television partners stay with the league through this very difficult period.
"It has been impossible for the club to downsize as quickly as we would like, due to the contractual obligations of the club, these are considerable and must be maintained to ensure the club does not slip into the fate of others.
"It is possible that major cutbacks may have to be made within the company, this may well involve people in the club losing their employment, not a good situation, so please accept that the club will be unlikely to be signing any new players until this situation is clear.
"Naturally we hope that if our partners do not invoke exit clauses in their contracts we would not have to go down this route."
St Mirren manager Danny Lennon has added Cowdenbeath midfielder Jon Robertson and English forwards Lewis Guy and Sam Parkin to his squad, while Nigel Hasselbaink, Jeroen Tesselar and Hugh Murray have moved on.
"The most important thing at this time for our football club is to have the emphasis on not taking big financial risks," said Lennon.
"I want to put a team on the pitch who will play for each other and entertain the people who come to pay and watch.
"I certainly believe we can improve on last season despite having smaller resources compared to the majority of the clubs in our league."
With league reform currently being discussed by the SPL, SFL and Scottish FA, Gilmour says St Mirren fans are keen on a 16-team top tier instead of the current top 12 set-up.
The chairman added: "St Mirren shall throw their weight totally behind a 16-team league structured in a similar way to the Belgium system with a large number of crossover games at the end of the season to determine relegation, European places and champions.
"This, with a change in the distribution model, would allow us to look after the interests of all full-time teams in the country on a football and financial basis.
"With a 10-team league below this for aspiring SPL clubs and a pyramid system beneath that, this would allow all clubs to develop and find their place in Scottish football."