Klinsmann: Spain win over Italy would make them team of century

By Jurgen Klinsmann
BBC pundit and former Germany coach
Last updated on .From the section Football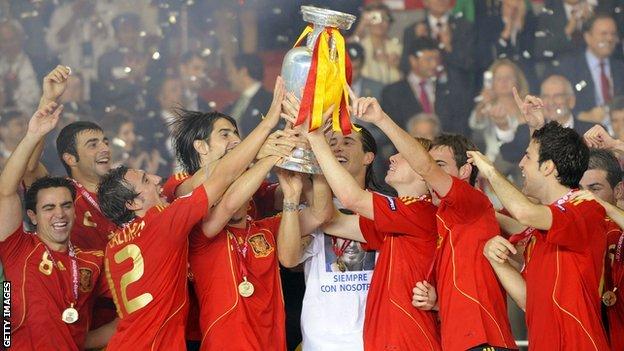 If Spain beat Italy in the final of Euro 2012 then they are going to be the team of the century.
Winning three consecutive major tournaments would show an incredible hunger and character to go with the fantastic talent in their squad.
It would be an unbelievable achievement for them to win a second successive European Championship to go with their World Cup triumph two years ago and, in my opinion, they are still the team to beat.
This Spain side is going through their toughest process because, having been so successful, they have set their standard so high and people are always expecting them to match it.
They really deserve the biggest compliments over the last few years for the style of play they have developed.
But the important thing is they have also learned how to finish things off by winning tournaments too. You have to give so much in order to cross the line and win again and again.
There is so much I admire about Vicente del Bosque's side, like their movement off the ball and the way they recover the ball so well when they lose it.
They have been criticised for being boring during this tournament but I think that is only because they are not playing exactly the way people want to see them play.
That drives people to be critical, but I don't think the Spanish players deserve to get any negative comments.
I love Spain's style of play, even if I would like to see more strikers in their starting line-up. We have to remember, though, that this is what Del Bosque is doing at this specific moment, he did not play that way in South Africa at the World Cup or during Euro 2008.
The key to winning games is to create chances and they still create chances using that 4-6-0 formation, which is kind of scary.
Obviously, I want to see them use a striker like Fernando Torres to lead their attack because I was a striker myself but they could win the tournament playing without one, which would just leave me speechless.
Italy will not make it easy for them, however, and it should be a very exciting final because they are two technically highly gifted teams. I am looking forward to watching it in Kiev.
Naturally, I am very disappointed that Italy are in the final, not Germany, but the fact is that Germany were beaten by an Italian side which was better than them.
Despite that defeat, I am very confident about Germany's future. They are going to be in very good shape for the 2014 World Cup in Brazil.
Reaching the last four at Euro 2012 means we have been at that stage or better for the last four major tournaments, and the young talent coming through like Marco Reus, Andre Schurrle and Mario Gotze is very encouraging.
I am proud of the part I played in building this Germany side and their style of play when I was manager from 2004 to 2006.
And I am so happy with the way it has progressed since then, especially now with more and more talent coming through the academies at the Bundesliga clubs and making it into the national team.
I was part of the beginning of that whole development and installed the coaching staff like Joachim Loew who are involved today.
Now I am looking at it from the outside and I am delighted for them.
Against Italy, the team hit the wall but they will continue to grow and mature and will be even better next time.
To become a great team, they will have to win a trophy, but the future still lies with them.