Dunfermline question SPL plan to replace Rangers with Dundee
Last updated on .From the section Football
Dunfermline have asked the Scottish Premier League why Dundee are being proposed over the Pars for a place in the top flight.
The Fife side were relegated from the SPL last season but the expected absence of Rangers would create a vacant spot in the division.
Senior Scottish football figures are proposing that Division One runners-up Dundee replace Rangers in the SPL.
And the Pars want to know the reasoning for these plans by 5 July.
The SPL listed 'Club 12' instead of Rangers on the fixture list for the coming season amidst the uncertainty surrounding the Ibrox club, which entered administration in February.
Charles Green's consortium has since started the process of relaunching the club under the banner of a new company with Rangers FC plc heading for liquidation.
But Green has not gained support for his Rangers newco to replace the old club in the SPL.
Dunfermline's board said in a statement: "We were rightly replaced [in the SPL] by [Division One champions] Ross County Football Club on sporting grounds.
"However, the situation regarding Rangers has led to the creation of a place for 'Club 12' an entirely different scenario.
"Despite asking for some direction or clarification, we have had no communication whatsoever from the SPL as to the rationale, rule reference or justification as to why Dundee FC is being proposed to take the place of 'Club 12' rather than Dunfermline.
"We are requesting in writing a definitive response from the SPL by 5 July to allow both ourselves and Dundee FC to plan for next season.
"The board believe[s] it has a moral duty to its supporters and sponsors to robustly defend the club's position on this matter, in the interests of both sporting integrity and legal precedent."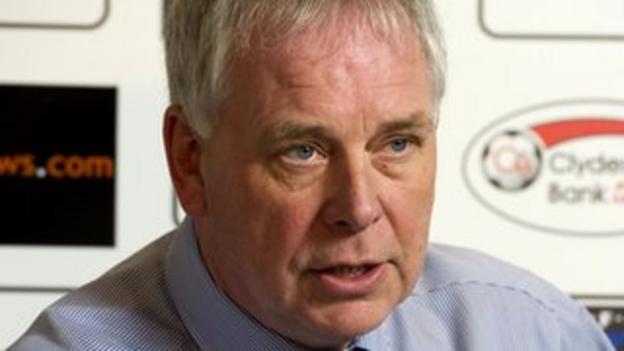 Dunfermline are also against any plan to place the Rangers newco in Division One, which is being proposed along with the eventual merger of Scotland's two league bodies and the introduction of a pyramid system below Division Three.
"The sporting integrity of our national game must be retained along with its longer term commercial interests rather than another short-term solution, which ignores completely the views and concerns of the ordinary fan," the Pars said.
"The structure of Scottish football must change, but it must be done for the right reasons and not used as some form of bargaining tool.
"The [proposal] document strongly implies that if the proposals are not accepted, then we will have financial meltdown in Scottish football, but if the loyal fans across the country desert the game then commercial sponsors or TV companies will have no-one to promote or broadcast to."