Port Vale administrators enter talks with new bidders
Last updated on .From the section Football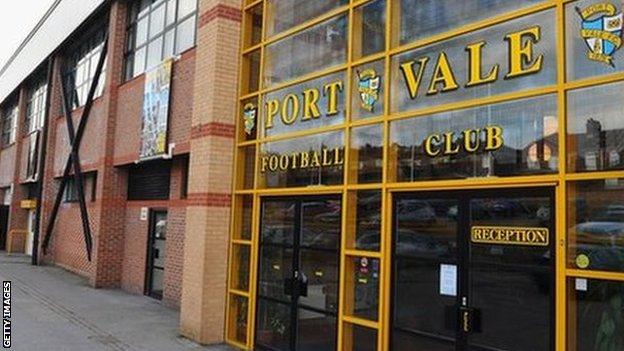 Prospective Port Vale owner Keith Ryder remains committed to buying the club, despite administrators revealing they are talking to new bidders.
Begbies-Traynor's Bob Young said they are looking elsewhere as Ryder failed to complete the deal.
"I'm a little concerned that he hasn't completed and I know no reason why he shouldn't have," Young told BBC Stoke.
But Ryder insists: "This does not mean that I have cold feet regarding the deal or that I am unable to complete."
In a statement, he said: "We have been unable to complete as quickly as we would have liked.
"Deals of this magnitude will inevitably hit snags along the way and I am extremely frustrated that I have been unable to complete the deal.
"We have complied with all of the Football League regulations and I have given proof of funding to Begbies Traynor.
"We are now at the final hurdle and I wake up every morning believing this is the day we will complete the takeover.
"I have shown my intent to take Port Vale forward, both by part-funding the wages and the pre-season trip to Ireland.
"In addition to this, I have been working hard behind the scenes to ensure that things are in place for when the takeover is completed.
"If the deal does not go through, and someone else buys the club, there will be no-one more disappointed than me.
"I am working all of the hours possible to make sure this deal is completed."
Ryder was first named preferred bidder by the club's administrators back in April.
He has since been waiting for clearance from the Football League in order to finalise the deal. But Young insists that the delay is down to Ryder.
"It all seems rather confusing," said Young. "We are told by the Football League and Keith Ryder's lawyer that all issues have been concluded.
"I've been pressing Keith to complete for the last 10 days or so and it keeps being put off until tomorrow.
"I still think Keith wants to do the deal and I believe he does have the money to complete.
"But the deadline of 30 June, which we then extended to 6 July, has now passed and he no longer has exclusivity.
"I've made it clear to him that we need to have a Plan B in case he does not complete.
"And we have put contracts out to two other parties who appear to be serious and understand the need to act quickly."
Vale, docked 10 points after entering administration in March, were also under a transfer embargo until a Company Voluntary Arrangement agreement allowed them to start signing players in July.
The club released a short statement on their website back in July, stating that: "Port Vale FC Ltd is owned 100% by Mr Keith Ryder."
Vale boss Micky Adams has since been allowed to sign six players.