Euro 2012: Garth Crooks's team of the tournament

By Garth Crooks
BBC football pundit
Last updated on .From the section Euro 2012421
The 2012 European Championship started with a bang and seemed to get better with each fixture.
Poland and Ukraine proved to be worthy hosts and deserve our congratulations even though their football was found wanting.
England barely matched their lofty Fifa world ranking while Germany surprisingly ran out of steam, leaving the Spanish to shatter Italy's dreams in a one-sided final.
Take a look at my team of the tournament and see if you agree with my selection.
Join the debate on Twitter using #BBCFootball.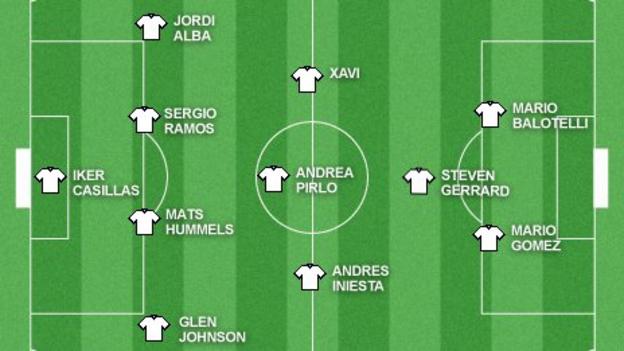 GOALKEEPER - IKER CASILLAS (SPAIN)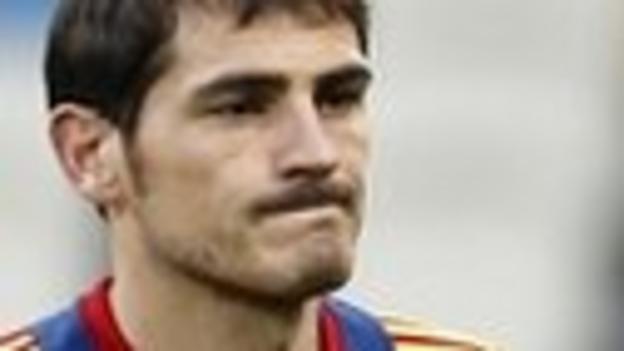 Good goalkeepers occasionally make great saves. A great keeper makes great saves which result in winning trophies. Casillas has won the lot. Another flawless tournament from the Real Madrid player.
Did you know? Casillas has kept nine clean sheets at the Euros, equalling Edwin van der Sar's record with Netherlands. Buffon is fourth on this list with five, behind Dino Zoff (6).
RIGHT-BACK - GLEN JOHNSON (ENGLAND)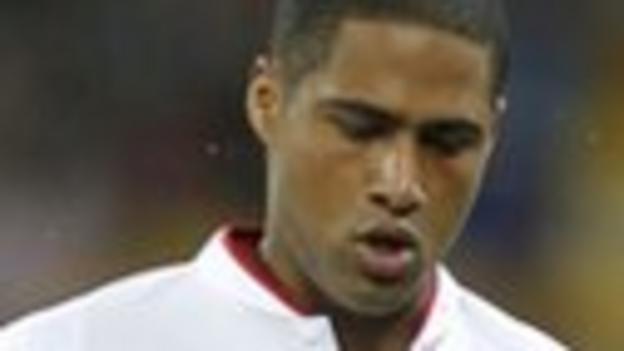 Liverpool defender Johnson's performance against Italy was one of the shining lights in an otherwise dismal second-half display by England in their quarter-final. How ironic Chelsea have never had a settled right-back since he left in 2007.
Did you know? Only Steven Gerrard (128) had more touches in the opposition half than Johnson (122) for England at Euro 2012.
LEFT-BACK - JORDI ALBA (SPAIN)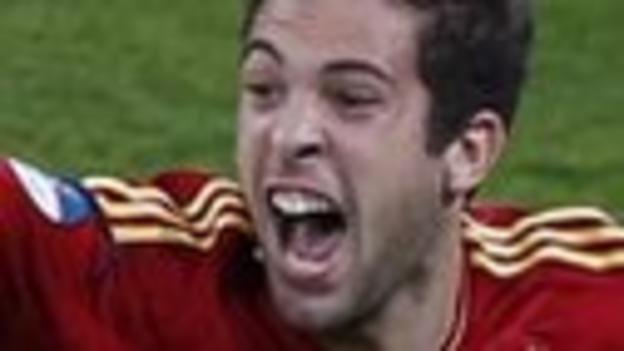 If you consider this excellent full-back cost Barcelona £11m recently, it should tell us all we need to know about the defender. His goal against Italy separates him from Lahm and Cole. Two class acts but we now have a new left-back to talk about and his name is Jordi Alba.
Did you know? Alba made more passes at Euro 2012 than any other defender (410), and was one of only two full-backs to score (with Lahm). Only three players made more touches in the opposition half (325).
CENTRE-BACK - MATS HUMMELS (GERMANY)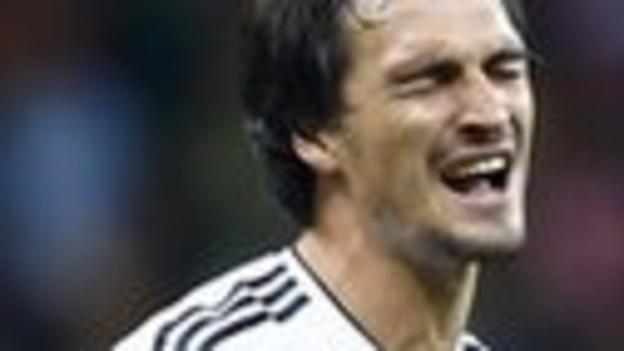 The Germans have a habit of producing exceptional central defenders at big tournaments. Hummels, who plays for Borussia Dortmund, looks like another one.
Did you know? Hummels won a higher percentage of his duels (81.1%) than any other player at Euro 2012.
CENTRE-BACK - SERGIO RAMOS (SPAIN)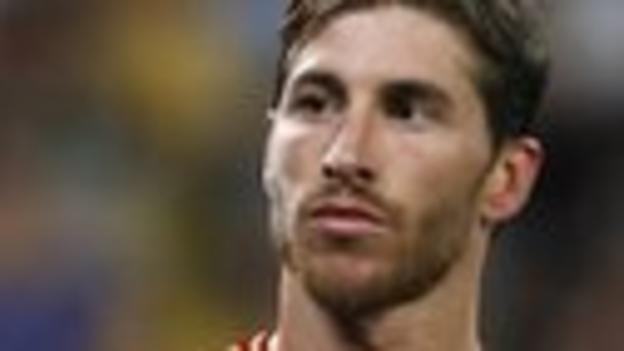 The Real Madrid star has deputised for Carles Puyol brilliantly at centre-back. He is an "old school" combative defender who tends to leave his mark on the opposing player given half a chance. In this tournament he also showed touches of brilliance.
Did you know? Ramos had more shots than any other defender at Euro 2012 (7).
CENTRAL MIDFIELD - ANDRES INIESTA (SPAIN)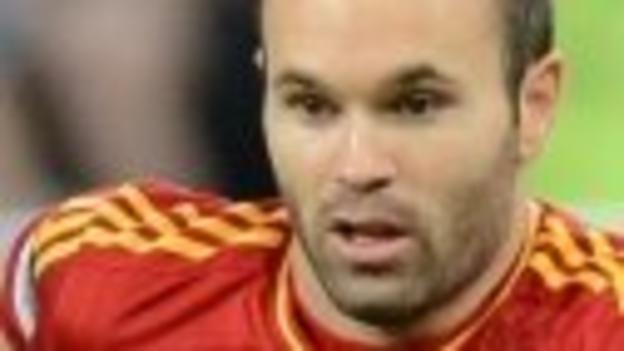 One of the most influential players in the Spanish line-up. Small but fearless, Andres once again proved that if you have enough ability size does not matter. Andy Carroll take note.
Did you know? Iniesta has had more shots on target without scoring at European Championship finals than any other player (11).
CENTRAL MIDFIELD - ANDREA PIRLO (ITALY)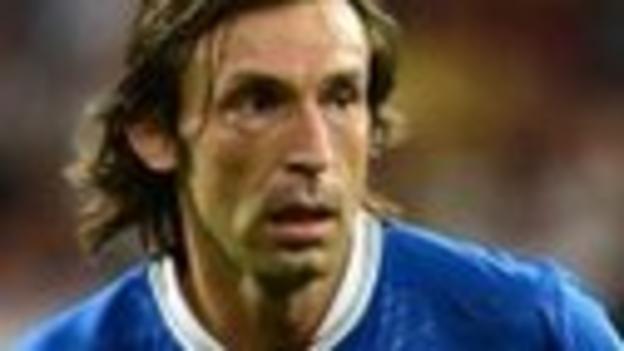 There was a time when British football produced players like Pirlo. Players who were so comfortable with the ball you thought it was tied to their foot. Anyone can run but you need talent to play.
Did you know? Pirlo made 131 passes against England, only Xavi (136 vs Ireland) made more in a single game at Euro 2012.
CENTRAL MIDFIELD - XAVI (SPAIN)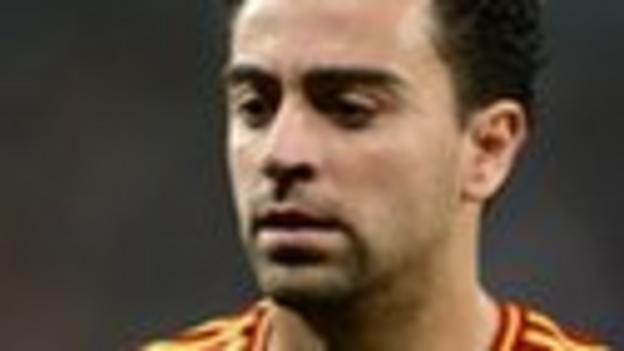 If Iniesta has been one of the most influential players in the Spanish team during their last three tournaments, then Xavi must almost certainly be the other one. Two pocket battleships leading the Spanish Armada.
Did you know? Against Portugal, Xavi overtook Zinedine Zidane (843) as the player to have made most passes in the history of the European Championships (949) and also set up the most shots in the competition (25).
ATTACKING MIDFIELD - STEVEN GERRARD (ENGLAND)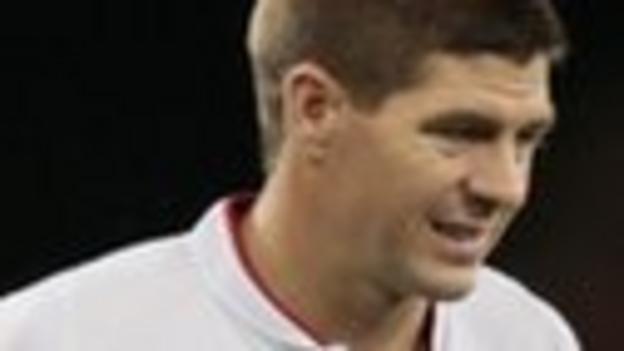 I once asked Steven why he couldn't produce the same commanding form for England as he does for Liverpool. He was upset with the question. However, it now looks as though the captaincy has given him the self-confidence and belief to be himself in an England shirt.
Did you know?Has had a hand in four of England's eight goals at their last two major tournaments (one goal, three assists) - even though Opta do not include the Rooney goal as assisted by Gerrard.
STRIKER - MARIO GOMEZ (GERMANY)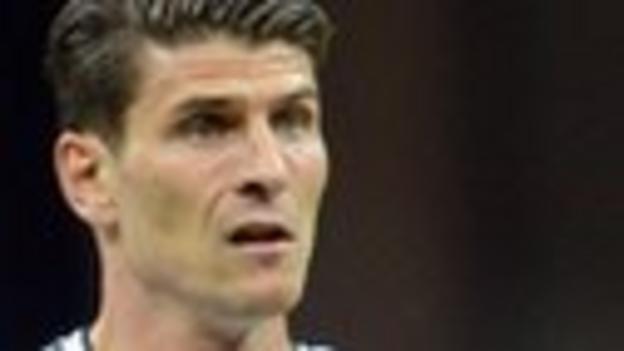 The Bayern Munich striker could not hit a barn door during the Champions League final against Chelsea. Not so in the European Championship. His composed and sophisticated approach in front of goal returned just in time for him to leave his mark on Poland and Ukraine with three goals.
Did you know? Only Spain's David Silva was involved in more goals at Euro 2012 (three goals, one assist) than Gomez.
STRIKER - MARIO BALOTELLI (ITALY)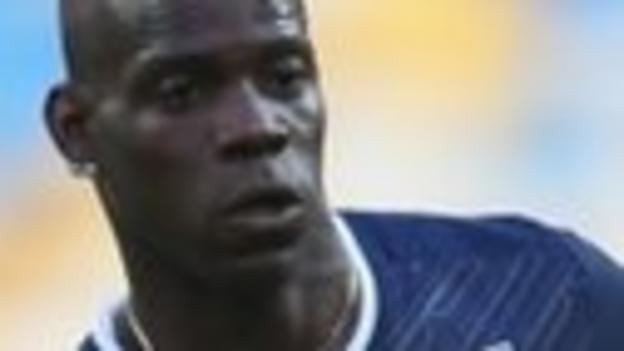 Love him or loathe him, whatever your thoughts regarding Balotelli you can't ignore him. The mercurial star has written his name in Azzurri folklore at the tender age of 21.
Did you know? Only Cristiano Ronaldo (37) had more shots than Balotelli at Euro 2012 (25). Balotelli became the first Italian player to score three goals in a single European Championship.