Harry Redknapp's Spurs sacking unexpected - Joe Jordan
Last updated on .From the section Football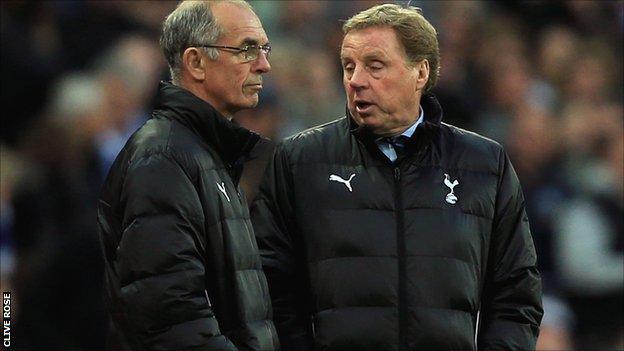 Tottenham would have improved next season if Harry Redknapp had remained in charge, according to his White Hart Lane assistant Joe Jordan.
"You look to improve and we would have," Jordan told BBC Radio 5 live.
"I think Harry had his eye on one or two players who he thought could improve the team."
Spurs only missed out on Champions League football because of Chelsea's win over Bayern Munich in the final.
And Jordan added: "We improved in each of the seasons we were at Tottenham. Harry would have got the players he wanted and we would have progressed further."
Jordan admits losing his job was the furthest thing from his mind after the final game of the season. At that point he still believed they would qualify for the Champions League and be in charge next term.
But Chelsea's victory over Bayern Munich meant they took the fourth Champions League place at Tottenham's expense.
"I didn't see it coming," Jordan added. "When I left White Hart Lane on the final day I was looking forward not only to the next season - but also the Champions League.
"Not for the life of me did I think I would go off on my holiday and return to find my contract had been terminated."
Jordan admits it has taken him a while to get over the shock of dismissal and believes himself, Bond and in particular Redknapp were harshly treated.
"It's hard to see what else we could have done," Jordan said.
"Harry arrived at a club that only had two points from eight games and was bottom of the league.
"I don't think people realise how difficult it is to turn that around but Harry eventually did that and we had a very respectful finish to the season.
"The seasons after that we went fourth, fifth and fourth and I think that was a major turnaround."