London 2012: Taylor wants to play alongside Giggs for Team GB
Last updated on .From the section Football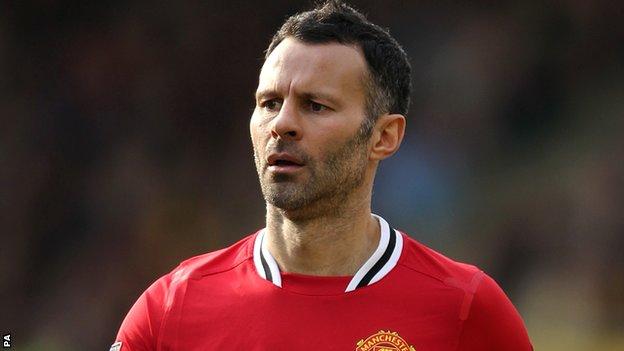 Neil Taylor says a call up to Team GB's Olympic football squad would see him fulfil his ambition of playing alongside countryman Ryan Giggs.
Giggs and Liverpool's Craig Bellamy are set to be named on Monday as overage players while Taylor, Aaron Ramsey and Joe Allen could also be included
Taylor's 2010 international debut came three years after Manchester United's Giggs quit Wales.
"It's an ambition for... every Welshman [to play with Giggs]," said Taylor.
"I was a little too late coming on to the [international] scene. I was a little bit disappointed never to play with him.
"Anybody that's going to be involved in that squad will be delighted to be involved if he's involved. He still is a great player.
"It will be great for him to be involved in a tournament like that and be around a squad of players that's different to Man Utd and what he's done with Wales."
Welshmen Giggs and Craig Bellamy along with Manchester City and England defender Micah Richards are set to be included as the three overage players.
However Wales' Gareth Bale will miss out on the Games after the Tottenham winger aggravated a back injury whilst training.
Swansea City defender Taylor says he is yet to hear whether he has made the 18-man squad, which coach Stuart Pearce will announce on Monday.
"We don't find out until the day it's announced," Taylor said.
"[I'm] very hopeful. Obviously you've got to want to be in it so on Monday when the final 18 is announced we'll find out.
"It will be a great squad however it's put together."
Taylor believes Team GB coach Pearce was put in an unenviable position over former England captain David Beckham, who has not been selected.
"I think [it was] a difficult decision for him [Pearce] either way," added Taylor.
"If he would have picked him then people would have been delighted and as an ambassador people would have loved to have seen him at the Olympics.
"But on the other hand people would have criticised it as well. I think it was a no win situation for Stuart Pearce on that front."