Euro 2012: Michel Platini defends Samir Nasri over journalist row
Last updated on .From the section Euro 2012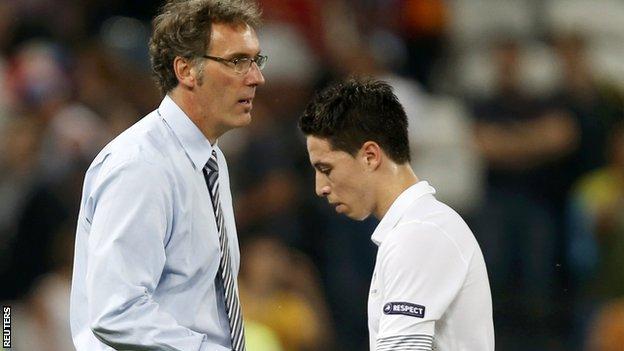 Uefa president Michel Platini has defended Samir Nasri after the France forward swore at a journalist during an argument.
Platini also said suggestions that Nasri could be banned for two years by France are ridiculous.
Former France captain Platini said: "If I got suspended every time I insulted a journalist I wouldn't have many caps.
"What he deserves? I have heard talk of a two-year suspension but that's absolutely ludicrous."
The Manchester City player had gesticulated angrily to the stands following his equaliser in France's opening game, a 1-1 draw against England. His reaction of putting his finger to his lips was believed to have been aimed at the French media.
He then became involved in a heated exchange of words with a journalist following France's quarter-final exit to Spain.
The clash occurred in the Donbass Arena after the 24-year-old was asked for his reaction to the result.
Nasri reportedly called the journalist a "son of a bitch" and repeatedly complained about the media's behaviour.
The former Arsenal player, a substitute in the game, added: "There, now you'll be able to say I've been badly brought up."
After that incident, Nasri wrote on his Twitter page: "The supporters and in particular children should know that I regret that my language may have shocked them.
"I love the France team, football and I have a profound respect for the fans."
Nasri did not apologise to the reporter, only adding: "It's a personal matter between some journalists and me. I will explain further when the time comes."
The French Football Federation is due to meet next week to discuss Nasri's case.