Gibraltar players 'spat' at Jersey team says boss Craig Culkin
Last updated on .From the section Football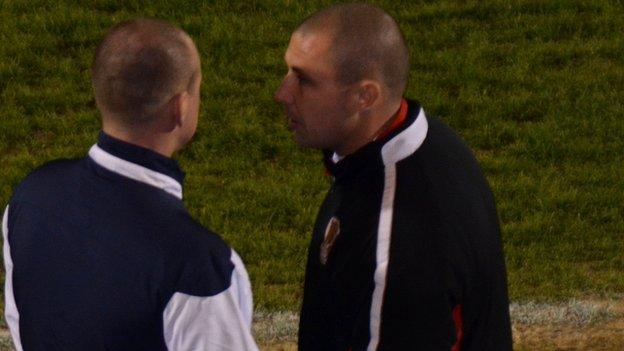 Jersey boss Craig Culkin says he is 'disappointed' with the conduct of some of the Gibraltar players after their International Shield final win.
The home side had two players sent off and Culkin says some of the home side spat at his players.
"I'm disappointed with the class they showed in terms of spitting in a few of the lads' faces," he told BBC Jersey.
"But that shows the class and the dignity of our lads in not responding to such adversity."
He added: "At the beginning of the tournament I was told that we were underdogs.
"I got told we would lose three to five nil from elements of the Gibraltar faithful.
"They fancied us to get beat so I think it says a lot about the heart, determination and desire of the boys to play for their island."
And Culkin says the tournament shows that his side can improve in the next year or two.
"It was certainly a learning curve for us playing against different styles and players.
"We've got a lot of work to do over the next 12-24 months, but I'm quietly confident in the progress we have made since I've retaken charge after last year's Muratti."