Ethiopian FA is aiming to boost the women's game
By Durosimi Thomas
BBC Sport, Addis Ababa
Last updated on .From the section Football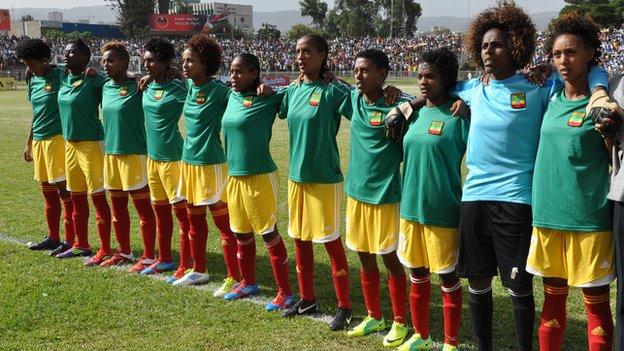 The Ethiopian Football Federation (EFF) has ruled that all Premier Division clubs should form a women's team in order to compete next season.
"We don't have an existing women's league at the moment but the national team is doing well right now," the EFF president Sahilu Gebre Mariam told BBC Sport.
"We have to find a way to develop the women's game and from next season the league will kick off."
Five of the top-flight clubs currently have women's teams, Dedebit, Bank, Defence, Dire Dawa and Coffee, from which the national team is chosen.
The exact format of the new women's league is yet to be finalised with the EFF saying there will be at least 12 teams in the new competition.
The issue of whether the two teams promoted for next season will be asked to form teams immediately is still being discussed.
The final round of the Ethiopian league takes place this weekend, with St George already having claimed the title.
"We've informed all the clubs that if they fail to form a women's team they will be thrown out of the Premier League next season," Sahilu said.
"Some clubs have asked for more time to recruit players and organise properly to which we have agreed.
"But we are hoping to kick off everything in October or November this year."
As well as reaching the latest African Women's Championship the Ethiopians also made it to the final round of qualifying for this year's Olympics losing 4-1 on aggregate to South Africa.
Ethiopia last played at the continental showcase for women in 2004 when they reached the semi-finals, a run that included a 2-1 win over hosts South Africa.
Two years earlier in Nigeria, the Lucy made their debut in the competition but could only finish bottom of their group.
With women's football increasing in popularity in Ethiopia, the hope is that the new structure will see the Lucy become one of the strongest sides on the continent and emulate the dominance of the country's top athletes.