New Brentford stadium could lead to bright future - Mark Devlin
Last updated on .From the section Football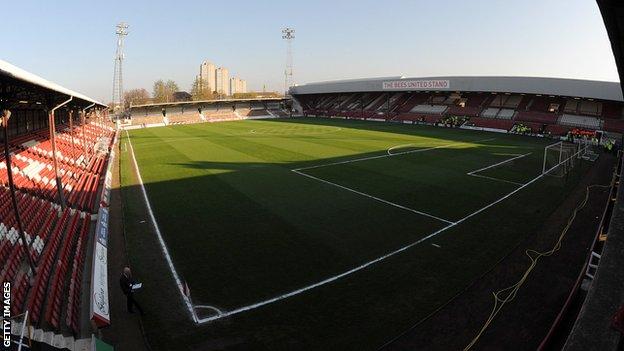 Brentford's chief executive Mark Devlin says a proposed new 15,000-seat stadium could transform the future of the club.
"Griffin Park is an atmospheric stadium that is dear to all fans' hearts," Devlin told BBC London 94.9.
"But it does not provide us with the opportunities to create a football club as a business that could sustain itself at a higher level."
He added: "It is the start of what we hope will be an exciting, bright new future.
"The purchase gives us the opportunity to work hard with the local council and the planners [to build] the type of facilities that would allow us to maximise use of the stadium.
"You need to get the right level of experts to make sure the stadium meets every need.
"You can't rush something like this or you are stuck with the mistakes for years to come.
"We've got a tough job to do over the next four years to build the fan base so people aren't rattling around the stadium."
Meanwhile, Devlin says the Bees would consider sharing the proposed new ground with a rugby union or rugby league side.
"Sharing the stadium with another professional sports club is something we would be happy to discuss and consider," added Devlin.
"If we were to have a rugby union club share with us, you have to make sure the facilities are right and the pitch that is laid is robust enough to cope with the demands you put on it.
"It's not something we would rule out but at the moment the plan is all about Brentford Football Club."