Rangers chief Charles Green to answer fans' concerns
Last updated on .From the section Football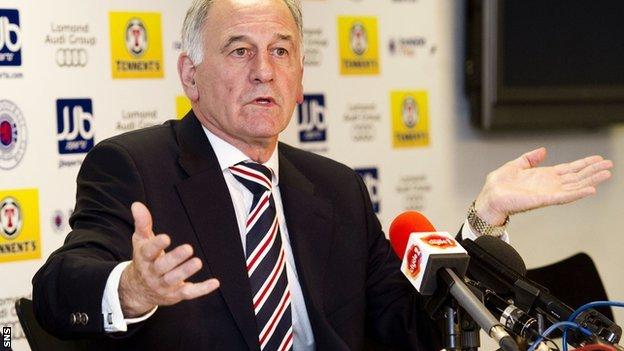 Rangers chief executive Charles Green says he will clarify issues raised by fans "over the next seven days".
Green, whose group acquired the assets, says "all questions will be answered".
Meanwhile, Green reiterated his intention to seek compensation for players who move on after rejecting a transfer to his Rangers newco.
Kyle Lafferty and Steven Whittaker signed for Sion and Norwich, respectively, on Saturday after objecting to having their contracts transferred from the old Rangers to Green's newco.
Eleven players rejected the newco move but Neil Alexander, Lee McCulloch, Lee Wallace and several others have returned to Murray Park for training.
Green, directors and manager Ally McCoist met with senior players at the training ground on Monday.
"We will do everything in our power to defend Rangers' position in these matters," Green told the Rangers website.
"I understand very clearly the situation then when a club applies for an international transfer certificate that the Scottish FA have little choice but to release that but that doesn't remove the case for compensation and we will pursue that."
Green's consortium completed their asset transfer around four months after Rangers FC plc went into administration and just over a year after Craig Whyte bought the club from Sir David Murray.
"I will always understand why the fans are worried because of the Craig Whyte situation and issues before that with David Murray," said Green of fans' concerns.
"There are times when we can't say anything because it could prejudice what is being discussed and what is talked about behind the scenes."
A meeting of Scottish Premier League clubs on Wednesday will formally decide whether the Rangers newco can replace the old club in the top flight, with the application expected to be rejected due to a majority of clubs already stating their opposition.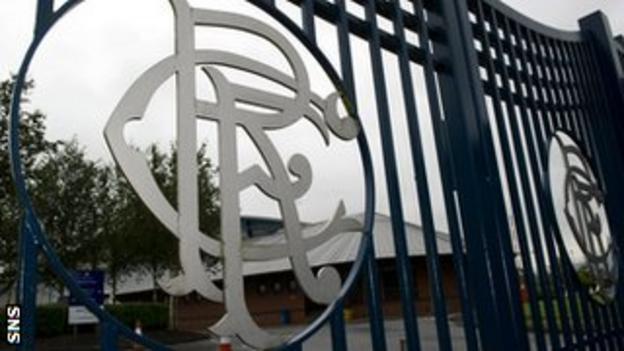 Before then, Scottish Football League clubs will discuss proposals to place the relaunched Rangers in the First Division.
However, Green expressed concern about Rangers' eligibility for any league.
Earlier this year, an SFA judiciary panel banned Rangers from signing players for a period of 12 months before the club eventually overturned the decision at the Court of Session, with the panel asked to select a different punishment for breaching SFA rules.
"There is now a clearer understanding of the implications of football without Rangers because this is not just about Rangers not being in the SPL," said Green.
"Lord Carloway may even just withdraw the licence to play at all if we go back to the tribunal.
"There are some big decisions and none are more material than Rangers being excluded from the league and the financial incomes this club drives for the benefit of all Scottish clubs."