Derek Weir steps down from Motherwell & SPL roles
Last updated on .From the section Football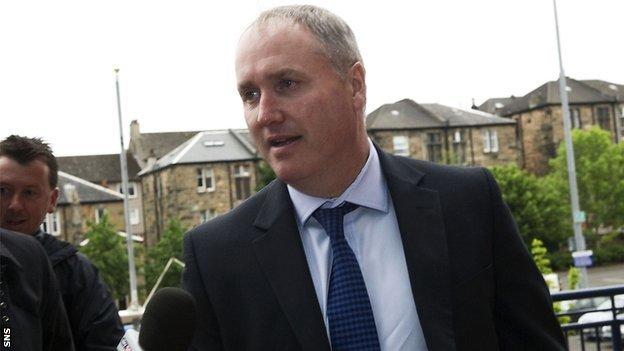 Motherwell have announced that Derek Weir is stepping down as vice-chairman and will also leave his position on the Scottish Premier League board.
However, Weir will remain a director at Fir Park.
The club said Weir's decision came "as a result of the number of extremely difficult and complex issues currently facing the game".
Meanwhile, 'Well insist no-one from the club had any input to proposals to place a Rangers newco in Division One.
A club statement said of Weir: "Derek feels he is no longer able to make the time commitment required to properly fulfil the role at the club and that he needs to refocus on his other business and family matters.
"Over the past two years Derek has dedicated a significant amount of his personal time to working on club issues and representing the club on the SPL board.
"Derek has agreed to remain a director of Motherwell FC and will continue to assist the chief executive and other board members in what is an extremely difficult period for the club.
"We would like to thank Derek for the significant contribution he has made to the club in his role as vice-chairman during the past two years."
Motherwell on Charles Green's application for the Rangers newco to replace the old club in the SPL.
A result has not yet been announced but several top flight clubs have already stated their opposition and a formal rejection is expected at Wednesday's meeting.
Senior Scottish football figures are proposing that the Rangers newco enter Division One next season, with Scottish Football League clubs to discuss this and other suggested measures on Tuesday.
And, responding to speculation of Motherwell input to the plans, a club spokesman said: "I can confirm no-one from Motherwell Football Club had any input into the production of the document and in fact had not seen it prior it to it being distributed.
"Furthermore, no-one from the club has taken part in any discussion with anyone from the Scottish Football League."