Rangers: Malcolm Murray issues apology from club
Last updated on .From the section Football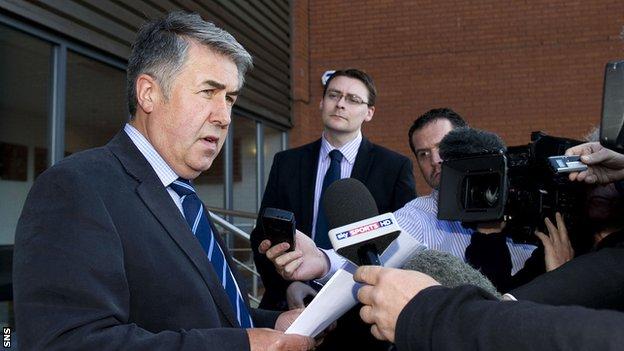 Chairman Malcolm Murray has issued an apology on behalf of Rangers for the "distress, disruption and difficulty inflicted on the football community".
"We are acutely aware that events at our club, brought about by people who are no longer here, have triggered a crisis in Scottish football," he said.
"Ally McCoist, the staff and players have nothing to apologise for.
"But the club needs to make an apology. It is only right that someone expresses our sorrow and regret."
Rangers, champions of Scotland a record 54 times, lost their Scottish Premier League place when the old company was consigned to liquidation last month.
A Charles Green-led consortium is reforming the club, having purchased the assets.
And Scotland's football authorities are busy debating where the Rangers newco should play next season.
With SPL clubs ready to reject a top-flight application from the newco on Wednesday, Scottish Football League clubs are discussing a proposal that would see Rangers admitted to the First Division.
If that fails to gather support, the new team could begin life in the Third Division.
Murray's statement continued: "On behalf of the new board of directors, I apologise unreservedly to all for the distress, disruption and difficulty inflicted on the football community, caused entirely by the actions of people who failed miserably to act responsibly during their stewardship of Rangers.
"All of Scottish football is now having to live with the consequences of that behaviour and every true Rangers fan will consider it a matter of deep regret that events at our club in the past have been the root cause of an extremely difficult time for Scottish football.
"The people who are now running Rangers Football Club want the club to move forward but we cannot do so until we have recognised how damaging to football the crisis at our club has been.
"We want to rebuild Rangers but we also want to ensure the club plays a role that is beneficial to Scottish football, the Scottish economy and Scottish life in general."