Botswana coach welcomes back five retired stars
By Mtokozisi Dube
BBC Sport, Gaborone
Last updated on .From the section Football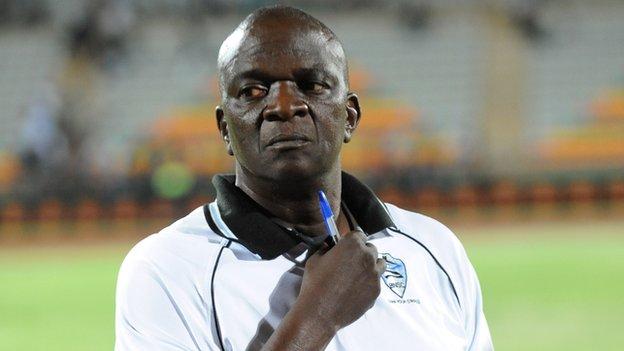 Botswana coach Stanley Tshosane has agreed to recall five players, who had retired following this year's Africa Cup of Nations.
The players were unhappy with the way Botswana Football Association (BFA) handled the remuneration issue before and after the Nations Cup.
"They are all willing to come back after apologising," Tshosane said.
"They've changed their minds and want to be considered in the future."
Despite forgiving the players - Modiri Marumo, Pontsho Moloi, Patrick Motsepe, Ndiyapo Letsholathebe and Tshepo Motlhabankwe - the coach is unhappy at the problems they have caused since the Nations Cup.
The Zebras lost 2-0 in Central African Republic before holding South Africa 1-1 in their opening 2014 World Cup qualifiers.
"We could be far by now if they had not made hasty decisions; remember Egypt wanted to play us but the players were unavailable," the coach told BBC Sport.
"But I regard these players as my sons and I understand they also make mistakes so we have to forget about that and focus on the future.
"However, this will disrupt my plans for the current campaign because I already have a group of players that I was working with."
Moloi, who plays for Botswana champions Mochudi Centre Chiefs, said he is ready to play for his country, again.
"I've sacrificed for my country for the last 15 years from under-17; you cannot trade representing your country for anything," Moloi said.
Veteran goalkeeper Marumo is another hoping for an international recall.
"I'm available for any game, it will all depend on whether the coach calls me or not," Marumo, who turns 36 on Friday, said.
Veteran striker Diphetogo 'Dipsy' Selolwane has, however, stuck by his decision to retire from international football.
The Zebras are currently training in Gaborone as they prepare for some upcoming international friendly matches.
After the recent postponement of the Cosafa Senior Men's Challenge Trophy, the BFA has been looking elsewhere for matches to prepare the team for the 2013 Nations Cup qualifiers in September.
The Zebras will find out on Thursday who they will play over two-legs in the final round of qualifying for next year's Nations Cup in South Africa.