Portsmouth boss Michael Appleton hopes for transfer boost
Last updated on .From the section Football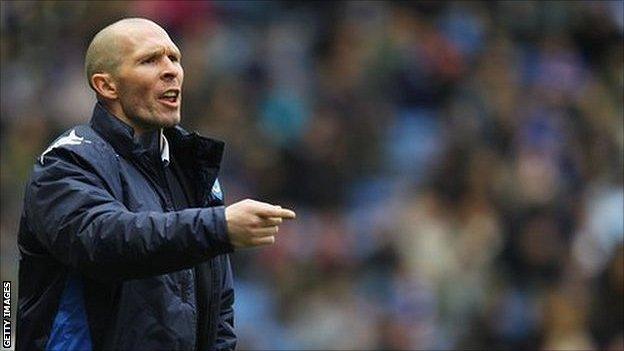 Portsmouth boss Michael Appleton says he is hoping discussions between administrator Trevor Birch and the Football League will allow him to start bringing players into the club.
With the start of pre-season less than a week away the Portsmouth squad is looking desperately short of players.
But with Birch in discussions with the Football League, Appleton is hoping for the green light to bring players in.
"We don't want to leave it too late," Appleton told BBC Radio Solent.
Pompey have seen the departure of several key players over the past few months, but with the club in administration and searching for a new buyer, have not been able to bring any new faces in.
That has been frustrating for Appleton who has identified several players over the summer he would like to bring in, only to see them join other clubs.
"It makes it doubly difficult because we are not able to act on what we first initially think of someone and bring them in. We have missed out on a few players this summer," said Appleton.
"Trevor has had an initial conversation with the Football League but I think that was about the CVA. I'm sure there will be more discussions over the next few days where they will let us know what we can and can't do.
"I'd like to think that hopefully soon if we see a player and we speak to him that we can act on it and get him signed up.
"In the past when teams have been in administration there's been an almost unwritten rule that you have to have 20 players to be competitive.
"If that's still the case then we are well short of that. If it was the case that if one left we could bring one in that would make my life a lot easier."
Meanwhile, Appleton has confirmed 18-year-old forward Ashley Harris has signed a new two-year deal with the club.
Appleton has also confirmed he has been in discussions with a couple of candidates for the vacant first-team coach position and hopes to appoint someone before the players return to pre-season training on Monday.
That would mean Guy Whittingham would drop down to coach the development squad at Fratton Park on a permanent basis.