AFC Bournemouth boss Paul Groves warns Shaun Cooper
Last updated on .From the section Football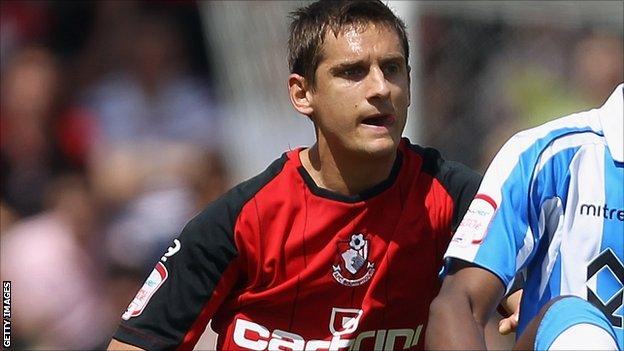 Bournemouth manager Paul Groves says the window for midfielder Shaun Cooper to sign a new contract is closing soon.
The 28-year-old has played 243 times for the club but is out of contract and has been stalling on a new deal.
Cooper failed to turn up for fitness training this week and Groves says there needs to be a resolution quickly.
"You speak and you come to a conclusion when negotiations are completely finished, and that situation is not far off," Groves told BBC Radio Solent.
Cooper joined the club from Portsmouth in 2005 but has not managed to agree terms with League One club.
The players returned for fitness tests on Monday ahead of full pre-season training next week but Cooper did not appear.
Groves admits he is still keen to retain the services of Cooper, but time is running out to resolve the issue.
"Shaun hasn't turned up and Shaun is out of contract," added Groves.
"At this moment in time we haven't come to an agreement and I think that's proving to be difficult.
"Everybody is different and everybody takes their own view of things as an individual and a player.
"Shaun needs to feel that the deal offered is right for him and at this moment in time that is not the case."
Meanwhile, fellow contract rebel Marc Pugh did return to training this week despite news last week that he would not be signing a new deal with the club.
Pugh has one year remaining on his current deal, but Groves says that despite reported interest from Burnley in the midfielder there have been no firm bids.
"There have been no offers for Marc or any other player for that matter," he said.