CAR move up Fifa rankings
Last updated on .From the section Football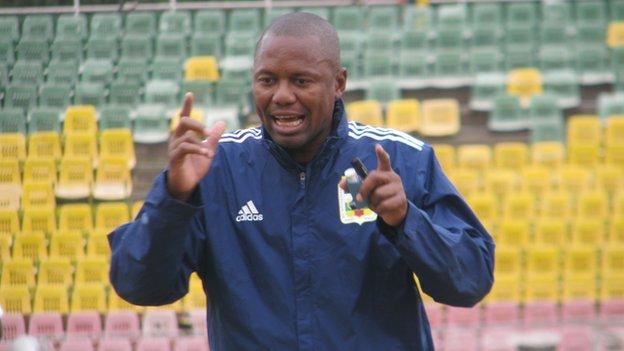 Central African Republic's 4-3 aggregate win over Egypt in the Africa Cup of Nations qualifying has seen them move up 20 places on the latest Fifa world rankings.
CAR's first-ever World Cup qualifying win over Botswana also helped their rise to number 16 on the continent and 73 globally.
Despite the loss, Egypt moved up six places globally, thanks to their two wins in 2014 World Cup qualifying and are up to seventh in Africa.
Nigeria are back into the top ten in Africa following their opening 2014 qualifiers and the 2-0 win over Rwanda to reach the final round of 2013 Nations Cup qualifying.
There was no change in the top five sides on the continent, with Ivory Coast still ranked at number one and the only African side in the global top 20.
Newly-crowned European champions Spain remain the top side in the world, with Germany moving up to second on the rankings.
July's Fifa world rankings for Africa (global positions in brackets)
Ivory Coast (16)

Ghana (33)

Algeria (35)

Libya (39)

Mali (40)

Zambia(41)

Egypt (42)

Tunisia (43)

Gabon (45)

Nigeria (58)

Cameroon (59)

Senegal (61)

Sierra Leone (65)

South Africa (68)

Morocco (71)

Central African Republic (73)

Guinea (75)

Benin (78)

Cape Verde Islands (79)

Uganda (85)

Angola (86)

Burkina Faso (87)

Congo (91)

Malawi (93)

Togo (98)

Zimbabwe (100)

Sudan (105)

Mozambique (107)

Equatorial Guinea (111)

Botswana (113)

DR Congo (114)

Niger (114)

Namibia (117)

Ethiopia(119)

Liberia (120)

Chad (123)

Kenya (125)

Rwanda(125)

Tanzania (127)

Gambia (128)

São Tomé e Príncipe (132)

Burundi(136)

Lesotho (166)

Madagascar (167)

Guinea-Bissau (169)

Swaziland (182)

Comoros (185)

Seychelles (187)

Eritrea (189)

Somalia (191)

Mauritius (193)

Djibouti (196)

Mauritania (202)