Partick Thistle call for SFA action on newco Rangers
Last updated on .From the section Football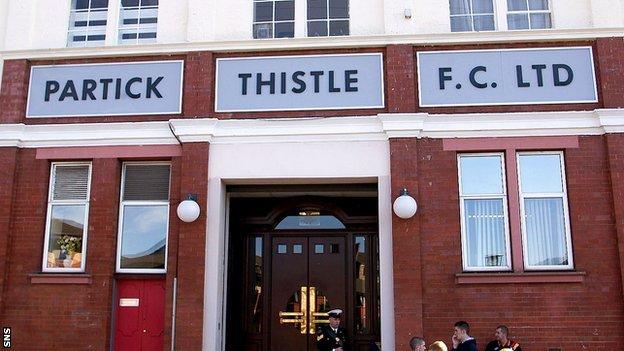 Partick Thistle are calling for the Scottish Football Association to "take ownership" of the Rangers crisis.
The Jags will not support the SFA proposal that would see a newly formed Rangers join them in Division One.
However, they back other elements of the plan and want to see "a radical overhaul" of the way football is structured in Scotland.
"The driving force for change has to be our national association," said the Glasgow club in a statement.
Third Division Clyde later accused the SFA of "absent leadership".
Having gathered on Tuesday to discuss the issue, Scottish Football League clubs will meet again on 12 July when they are expected to vote on a motion to accept the newco in Division One.
But Thistle argue that SFL clubs should not shoulder the burden of finding a solution to minimise the financial impact of the liquidation of Rangers while accommodating demands for sporting justice.
And Clyde said the implied consequences of not backing the plan would be a loss of the annual £2m settlement payment from the SPL.
"There will be no winners," said the Cumbernauld-based club. "Any level of integrity for the sport will be lost by one outcome and financial collapse, we are told, will fall upon the SPL with the other.
"The SPL implication is that there has to be SFL1 with a bit of restructure, or an SPL2 with the rest of the SFL cut adrift. There were no other options."
The statement from Thistle adds: "A more fundamental review of the entire Scottish football league(s) setup is clearly required.
"However, we feel that it is not the responsibility for making a decision, that will have huge ramifications throughout the game in this country, to fall on any individual member, or collection of clubs of the Scottish Football League.
"This is not a problem of the SFL's making and as a result it is not a decision which can be taken in isolation of the SPL clubs.
"It is the opinion of Partick Thistle that the Scottish Football Association, the game's governing body in Scotland, should now take ownership of this unprecedented situation."
Thistle are the 11th SFL club to voice opposition to a newco in Division One, following announcements from Falkirk, Dunfermline, Raith Rovers, Morton, Livingston, East Fife, Stranraer, Stirling Albion, Peterhead and Clyde.