Cobblers' Clive Platt and Alex Nicholls relish new test
Last updated on .From the section Football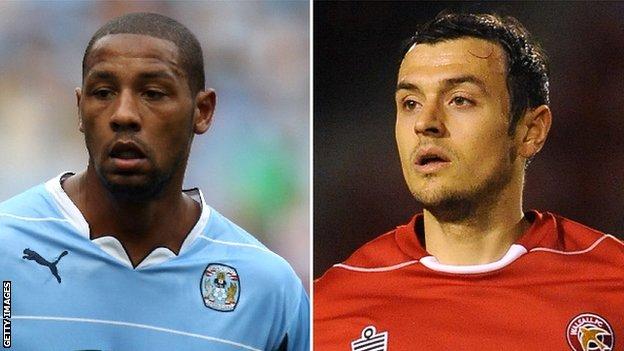 Northampton Town forwards Clive Platt and Alex Nicholls say the challenge of League Two football playing for Aidy Boothroyd was behind their moves.
Both Platt, 34, and Nicholls, 24, were offered new deals by their former clubs Coventry and Walsall respectively.
Platt told BBC Northampton: "To be so close to home, to get the two-year deal and to work with Aidy Boothroyd [made it] a good place to be at Northampton.
"Aidy is the most professional manager I've worked with."
"There's people you like to work with and believe get the best out of you," added Platt, who worked with Boothroyd at both Coventry and Colchester.
"He's an ambitious man and it's about getting on board with that as soon as possible."
Nicholls, who had spent his entire career with Walsall and scored seven goals in League One last season, echoes the praise for Boothroyd.
"[The move] is a new thing for me," he told BBC Northampton.
"It's a challenge but one I'm looking forward to. It could've been easier [to stay at Walsall] but I thought, for the good of my career, the move would be best.
"I came and spoke to the manager and he filled me with confidence about the club.
"He told me that I'd be looked at as a striker, which is where I want to play. He's a very ambitious man and I feel I'm the same. It just felt right."
Northampton already have target-man striker Adebayo Akinfenwa in their squad, and Platt says he could team up with the Cobblers' top goalscorer from 2011/12 as well as a forward in the mould of Nicholls.
"I had a good combination with Kayode Odejayi at Colchester and a smaller striker, Kevin Lisbie, and again that worked. I could definitely link up [with Akinfenwa] as well.
"Whoever I play up-front with, every forward I've played with before has seemed to have a good season and got a few goals.
The Cobblers, who finished League Two in 20th position, could use pacey wingers Ishmel Demontagnac and Chris Hackett next season and Platt would welcome those tactics.
"When I was at MK Dons, where I had my best goalscoring spell, we had two fast wingers in Lloyd Dyer and JP McGovern who were constantly getting balls into the box and that's where my goals are scored from."
Nicholls added: "There's something really good going on at this club and you can see that from the players the manager has signed.
"They're good players who've played at a higher level and that's what we need to get out this division.
"I want to play in a team that's going to be doing well and I feel I've got that opportunity here. I'm expecting us to be very competitive this season."