Chelsea boss Roberto Di Matteo unconcerned by Guardiola talk
Last updated on .From the section Football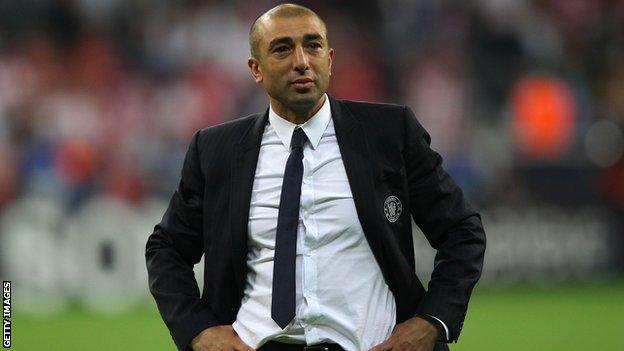 New Chelsea manager Roberto Di Matteo insists he does not fear the "shadow" of Pep Guardiola.
Di Matteo is not concerned about ex-Barcelona coach Guardiola being linked with the job and is comfortable with being judged on results.
"I've lived with speculation from day one so I don't feel any shadow behind me or above me," Di Matteo said.
"I've been in football all my life and I clearly know that managers are judged by results and it's no different for me than anyone else.
"Speculation is there every day. I've lived with it pretty well, I'll continue to do my job, trying to do as well as I can and everyone else can say and write what they want."
Di Matteo, who was Andre Villas-Boas' assistant until the Portuguese was sacked in March, maintains he was never worried about the delay in his appointment.
The former West Brom and MK Dons manager was given the job on a permanent basis almost a month after guiding Chelsea to their first-ever Champions League title.
He added: "There was no time limit on it. We were always in touch and in contact and there was holiday time and a break that was much needed so it wasn't a question of not talking."
Di Matteo is also comfortable with the expectations that the impressive finish to last season have brought.
He hinted that new signings Eden Hazard and Marko Marin will be joined by further additions before the transfer window closes.
Di Matteo said: "With Chelsea you are always looking to be competing and be in the frame to win something at the end of the season so I think that will be the key.
"We have a good team, we have an experienced team with some fresh players in it and I'm very confident for next season. The priority is to challenge."