Sky's the limit for stellar Spain
By Andy Brassell
European football expert
Last updated on .From the section Football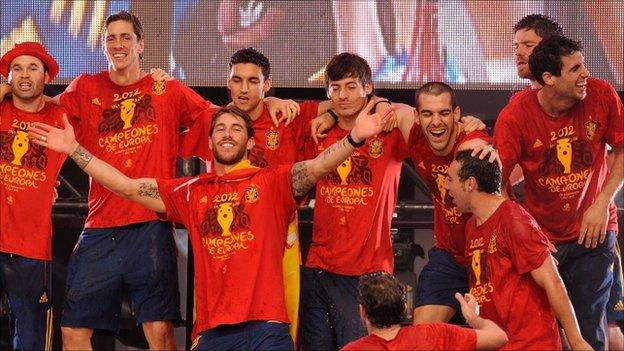 Even after Spain's perfect Euro 2012 final performance in Kiev, it is very difficult to tell whether they really are the greatest-ever international team, though they do not look like stopping ahead of the 2014 World Cup.
Before and during Euro 2012, many had shared the opinion that time and fatigue were catching up with Vicente del Bosque's squad.
If the performance in the 4-0 thrashing of Italy ended that argument, it also made clear the strength of Spain's desire. A number of other cliches surrounding this oft-misunderstood team were also removed.
The final rubbished the notion that Spain's miserly defence was solely built on ball retention. La Furia Roja had a light possession advantage overall (52% to 48%) but Italy had 56% possession in the second period.
It was what Spain did with the ball that counted: they were incisive and decisive. Their second goal, by Jordi Alba, was a case in point. Seven seconds passed between Barcelona's newest signing starting the move in his own half and the ball hitting the net.
It showed another side of Spain's game that many had overlooked. Their impeccable technique and movement is taken for granted, but the sheer attacking power on display showed the extraordinary levels of fitness within the side.
What is perhaps most ominous for future opponents is what appears to be an insatiable hunger to improve. On Tuesday, Spanish sports daily Marca published a list of the next seven challenges for Spain.
The Confederations Cup and a fourth European Championship were on it, though writer Tomas Campos also identified "winning an official match against Argentina and Uruguay". The feeling at home is that Spain can do everything.
The London Olympics are certainly on the menu and the squad announced by coach Luis Milla on Tuesday pitched a few signposts to the future.
Milla's group includes the next generation eulogised by captain Iker Casillas in the immediate aftermath of the final. Among them are 13 of the squad that won last summer's European Under-21 Championship in Denmark.
Athletic Bilbao's Ander Herrera and Thiago Alcantara of Barcelona, who scored in the win over talented Switzerland in the final, are both in.
Nobody can guarantee that today's promising youngsters will be tomorrow's world-beaters. Yet it is clear that the representative levels provide a platform to the senior squad.
It is also plain that the players have genuine ambition to succeed for their country at whatever level. Juan Mata was more than happy to step down to junior level to captain Spain to victory in Denmark last year.
Kiev scorers Mata and Alba are part of the initial Olympic group, along with fellow Euro 2012 squad member Javi Martinez.
It could pay to put in the work now, because competition for squad places for the World Cup promises to be fiercer than ever before. There may not be as much squad turnover as many imagine.
Given his injury concerns of recent years, it is fairly difficult to imagine Carles Puyol making the cut for the 2014 tournament in Brazil. Few are likely to readily drop out, however.
Xavi will be 34 by the time Spain arrive in South America, but one should not write off his chances of participating. He has assumed a deeper role in Spain's midfield since Euro 2008, which helps to conserve his energy.
On Sunday, he was pushed further forward for the first time in a while for Spain - with spectacular results. This success is perhaps one of the best examples of Del Bosque's unobtrusive - but highly effective - management.
To share the load, the coach could call on Xavi's Barca team-mate Thiago, but there are even signs that the creative emphasis of the side could evolve.
Cesc Fabregas is becoming more vital to Spain as time progresses. Bearing the hallmarks of his Premier League education, he adds even more will and energy to the mix. It is a welcome puzzler for Del Bosque.
In the meantime, Spain's prospective 2014 rivals have plenty of work to do. Plenty of good judges expect the exciting Germany squad to eventually steal Spain's crown.
Yet after Germany stalled in the latter stages for the fourth successive tournament, the question must be asked: where is the killer instinct to get over the finishing line?
Against the Netherlands in the 2010 World Cup final, and in the semi-final with Portugal this time, Spain showed they can find a way to win without reaching total fluency. Joachim Loew's side have yet to demonstrate such a trait.
Elsewhere, 2014 host nation Brazil will have to cope under an intense burden of pressure, while Argentina always share Portugal's challenge of accommodating an outstanding individual within a functional team.
From Europe, Italy are a promising work in progress, but the gap was clear in the final. The fragility of France and England's progress was evident in Euro 2012.
As of now, few suggest they have the same clear idea of exactly where they are going as Spain. Del Bosque's men will remain the team to beat.