Lucas Leiva feared his Liverpool career was over after knee surgery
Last updated on .From the section Football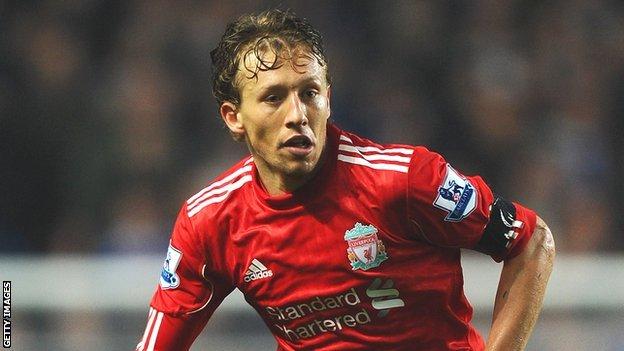 Liverpool midfielder Lucas Leiva says he feared for his career after surgery on his knee last December, but he is now hoping to be fit for next season.
"To be honest, in a few moments I thought I couldn't come back any more," admitted the Brazil international.
"My main target now is to be OK to play a part next season."
Lucas, who returned for pre-season training alongside team-mates not involved in summer international duty on Wednesday, added: "I think I am progressing very well in terms of the knee, strength and fitness-wise.
"I am working every week and trying to improve every week and the main target is to be fit for the new season, if not for the start then after a few weeks."
Lucas, who was one of Liverpool's standout performers prior to his injury, has undergone an intensive programme to regain his fitness, which included spending some of his time in his homeland working at former club Gremio.
He admitted to becoming frustrated during what was the first long-term injury lay-off of his career, but says he is now feeling much more positive.
"It has been very hard for me because I have never been out for a month, so you can imagine five months when I can't play and only watch the games," he said.
"The most difficult period for me was when I was on crutches for two months, especially the first four weeks after the surgery when the knee was swollen. I thought I couldn't even walk because the way I looked at my knee I felt scared.
"It comes through your head that you might not be at the same level you were before, but at the same time you see big players who had the same injury come back and be even better.
"There is no need for me to be scared. Rather than stay protecting myself, I need to work on my head as well to come back and play the same way I was playing before.
"One of the things which made me strong in the team was how aggressive I was in tackles and things like that, so I cannot lose that.
"I am confident I will be back at the same level because I know how hard I am working."