Rangers: Ian Black agrees to join as forward duo are offered deals

By Brian McLauchlin
BBC Scotland
Last updated on .From the section Football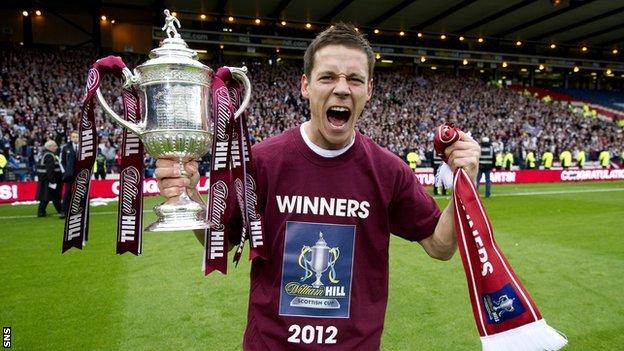 Ian Black has agreed in principle to join Rangers but the deal is dependent on which league the relaunched club will play in, BBC Scotland has learned.
Other factors that may prohibit the deal could be a potential transfer embargo placed on the club should they join Division One.
The 27-year-old midfielder has left Hearts under freedom of contract.
Meanwhile, manager Ally McCoist says Andy Little and Salim Kerkar have been offered new contracts at Rangers.
Both players' deals to the old Rangers expired this summer and McCoist hopes the pair will sign on with the relaunched Ibrox club.
Black has been linked with a number of clubs from England but his preference is understood to be Ibrox.
His spell at the Tynecastle club ended with their Scottish Cup triumph in May, with several other experienced players leaving Hearts as free agents this summer.
Having spent his youth career at Blackburn Rovers, Black joined Inverness in 2004 and spent five seasons with the Highland club before joining Hearts, as his father had done in 1978.
Rangers, who are reforming under the control of a new company after their previous incarnation could not be saved from liquidation, will not be playing in the Scottish Premier League in the coming season.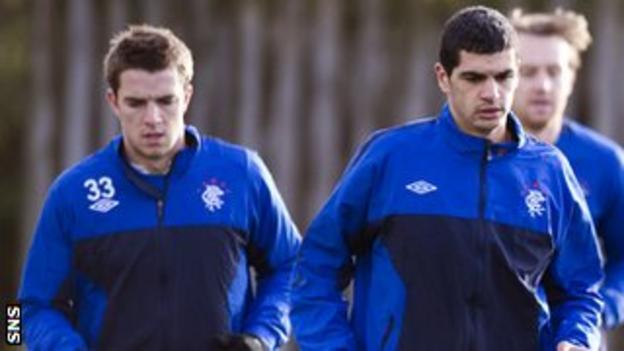 Top flight clubs voted overwhelmingly against the Rangers newco's application to replace the old club and the Scottish Football League will now consider admitting the Ibrox side.
SFL clubs will meet next week to vote on whether Rangers should start next season in Division One, but several member clubs have expressed opposition to the proposal and contend that Division Three should be the entry point.
The transfer of assets from Rangers FC plc to the newco did not include all of the players, with 11 squad members objecting to the move and some having since joined new clubs.
But Black's former Hearts team-mate Lee Wallace is one of several players to have committed to the newco, who have also signed Rangers youth players Chris Hegarty and Andrew Mitchell on new contracts.
And McCoist hopes forwards Little and Kerar will also continue commit to new deals.
"Hopefully we'll get them over the line, although I wouldn't like to put a timescale on either of them," McCoist said on the club website.