Tom Saintfiet signs two-year deal to coach Yanga
By Emmanuel Muga
BBC Sport, Dar es Salaam
Last updated on .From the section Football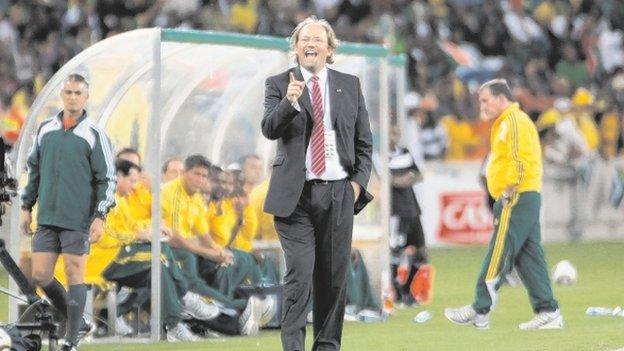 Belgian coach Tom Saintfiet has signed a two-year deal with Tanzanian giants Young Africans.
The 39-year-old arrived in Dar es Salaam on Wednesday and agreed terms with the reigning east and central Africa club champions.
"I have had my first training at the Yanga training ground and over one thousand fans were watching - it was amazing," said a delighted Saintfiet.
Saintfiet recently lost his position as Nigeria's Technical Director.
He was particularly impressed by the welcome he received at the airport on Wednesday, with hundreds of fans turning out to greet the former Ethiopia coach.
"The club has made a very professional first impression and the fans have welcomed me enormously," he added.
Meanwhile, Young Africans are excited about Saintfiet's appointment.
"He is one of the best coaches in Africa," said Sendeu.
"He is the one who taught Ethiopians their impressive style of play and we believe he is the right person for Yanga.
"We have negotiated and agreed with him. Before coming here, he gave us his conditions and of course we accepted them - that's why he is here and is going to be our coach."
A total of 27 coaches applied for the job, including former Taifa Stars coach Marcio Maximo.
Yanga are in an election period and their financier business tycoon Yusuph Manji is vying for the chairmanship position.
The employment of a high-profile coach is viewed by many as part of Manji's campaign to be elected as chairman of the most popular club in Tanzania.
Saintfiet has previous experience of African football in not only Nigeria and Ethiopia, but Namibia and Zimbabwe as well.