Robin van Persie: What now for the Arsenal striker?
By Mandeep Sanghera and Ben Smith
BBC Sport
Last updated on .From the section Football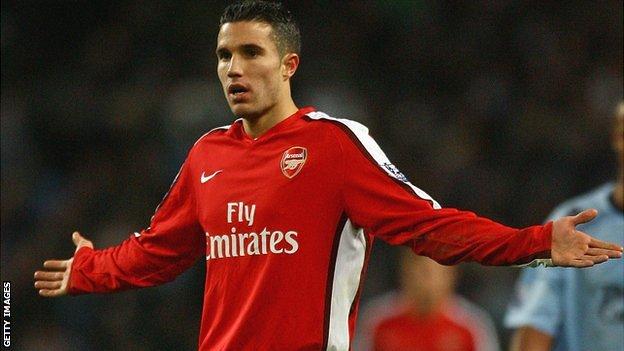 Another summer and another one of Arsenal's star players could leave Emirates Stadium.
The Dutch international is the Professional Footballers' Association and Football Writers' Association player of the year, almost single-handedly thrusting Arsenal into the Champions League's qualifying positions, with 30 league goals in 38 games.
WHAT NOW FOR VAN PERSIE?
ARSENAL
Van Persie has been with the Gunners since 2004 and says he has "grown into a man" in his eight years at the club under manager Arsene Wenger.
But, whatever his emotional attachment to the north London outfit and his respect for Wenger, Arsenal have gone seven years without winning any silverware.
Van Persie has one year left on his current deal and his decision not to extend could prompt a move this summer.
Arsenal, who may still hold out hope of changing the player's mind, put a strong emphasis on their financial nous. A big fee would be preferable to losing him for nothing next summer.
MANCHESTER CITY
City do not lack money and it has been reported they are willing to throw plenty of it in the direction of Van Persie to try to persuade him to join.
He is one of the Premier League champions' top summer targets and, with owner Sheikh Mansour's investment in the club, they have the cash and ambition.
Van Persie watched Gael Clichy and Samir Nasri make the switch from Emirates to Etihad this time last year - but the main stumbling block to a move to City could be Arsenal's unwillingness to sell another player to their rivals.
In addition to Nasri and Clichy, Emmanuel Adebayor and Kolo Toure have both left Arsenal for City in recent seasons.
MANCHESTER UNITED
United and Arsenal used to be title rivals but, with the Gunners slipping from their Premier League-challenging perch, the Old Trafford club's position in luring the player may have strengthened.
United boss Sir Alex Ferguson is a known admirer of Van Persie and, although only City outscored his side in the top flight last season, they lost out on the title on goal difference.
It may well come down to money. Can United match City's offer to the player?
JUVENTUS
Juventus are Italian league champions and have reportedly had an £8m offer for Van Persie rejected by the Gunners, who want a greater fee.
The Turin club may be league champions but Serie A may not have the same sway in luring star players as in the past.
OTHER CONTENDERS
Barcelona could have come calling after striker David Villa broke his leg at the end of last year. But Villa is set to return for the forthcoming season and they still have Lionel Messi to rely on for goals.
Real Madrid's interest in Van Persie has cooled in recent months and up front is not an area they struggled with last season on the way to winning La Liga.
Paris St Germain have wealthy backers in the form of the Qatar Investment Authority but they have signed Argentina forward Ezequiel Lavezzi from Napoli.
PSG manager Carlo Ancelotti may be more concerned at strengthening other areas of his team, while Van Persie may not view the French league as being an enticing enough challenge.
ARSENAL'S EXIT CREW
Leaving the Gunners would have been seen as a embarking on the downward spiral of a player's career in the past but this does not seem to be the case anymore.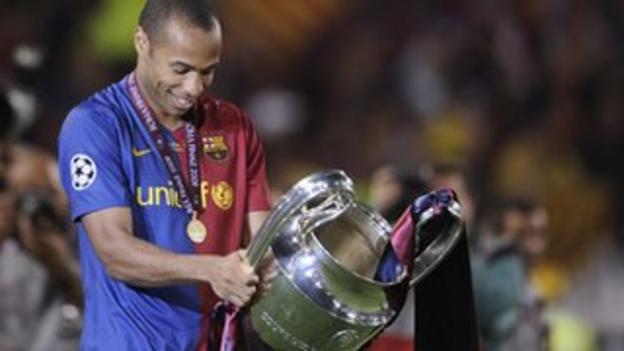 Nasri and Clichy are recent examples after moving to Manchester City last summer and winning the Premier League title at the end of their first season.
Cesc Fabregas also left the Emirates last year, switching to Barcelona.
Although the Spanish club were knocked out of the Champions League in the semi-finals and finished runners-up in La Liga, they did win a domestic cup competition.
Thierry Henry was part of the famous Invincibles side that won the top-flight title in 2003-2004 after going the league season unbeaten.
He also made the switch from Arsenal to Barcelona in 2007 and won the Champions League in 2009.