Alisher Usmanov criticises Arsenal board over 'lack of investment'
Last updated on .From the section Football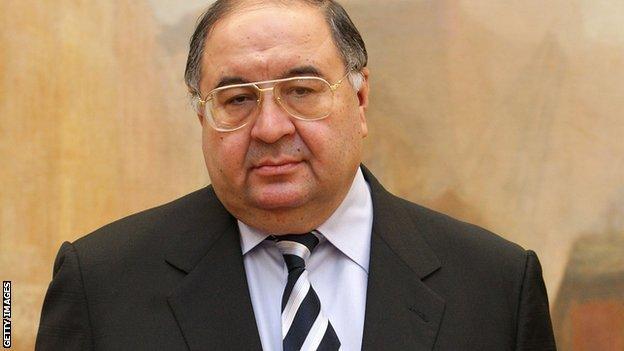 Arsenal's second largest shareholder Alisher Usmanov has criticised the running of the club after Robin van Persie announced he would not be renewing his contract.
"Yet again we are faced with losing our true marquee player because we cannot give confidence we can win trophies.
"Where are the safeguards to ensure this doesn't happen again?" he writes.
Usmanov's Red and White Holding company has a 29% stake in Arsenal. American businessman Stan Kroenke, 64, is the Premier League club's majority shareholder, owning 63% of the club.
Kroenke tried to complete a full takeover of the club in 2011 but the 58-year-old Usmanov insisted he would not sell.
In the open letter dated Thursday, 5 July, Usmanov accuses Arsenal chief executive Ivan Gazidis of giving supporters the impression that Red and White was in a bitter stand-off with the board.
"In our view it is clear you are trying to distract attention from the more fundamental issues facing the club," he writes. "These are the financial model, the lack of investment and club's future strategic direction."
The letter suggests the "real conflict is between the supporters' expectations and your visions for the club".
"Mr Kroenke was sold a vision by the board at a time when the club could be successful without further investment," it reads.
"As a consequence of this policy, which is dressed up as prudent financial planning, it is down to our manager and not the shareholders, to have to deal with the club's tight finances, carry the burden of repaying the stadium debt by selling his best players and having to continue to find cheaper replacements.
"This policy is leading to the loss of our best players, often to main competitors, and even causes the players themselves to question their future at the club and the club's ambitions.
"The situation with Robin van Persie sums this up."
Van Persie, 28, who has a year left on his contract, revealed on Wednesday that he and manager Arsene Wenger and Gazidis disagreed on the way the club should move forward.
It is not clear whether the striker, who scored 41 goals in 53 games for club and country last season, will see out the remainder of his contract or seek a move away from the Emirates.
Arsenal won the Premier League title without losing a game in 2004. But the FA Cup success of 2005 is their last piece of silverware. They have not finished in the top two for seven years and have seen a succession of players leave in recent years, including Cesc Fabregas, Thierry Henry, Emmanuel Adebayor, Kolo Toure, Gael Clichy and Samir Nasri.
The letter adds: "As a top club we should, at the very least, match if not beat the offers that other clubs make to try and lure our very best players away and provide a more compelling vision for the future.
"You can try and put a good face on a bad game for as long as you want, but it will not hide the obvious fact that it just does not allow our great manager to fully realise his managerial talent and deliver success for fans who are paying the highest prices in the land. "
The club have signed two strikers this summer: Montpellier's France international Olivier Giroud, 25, for a reported £12m and Germany's Lukas Podolski for around £11m from Cologne.
But Usmanov says Champions League qualification is the "pinnacle of the club's ambition" and calls for investment to match that spent by Real Madrid, Barcelona, Chelsea and Manchester City or face lowering expectations even further.
He signs off the letter by saying Red and White is willing to buy more shares and retain its shareholding for "family members to benefit for generations to come".
Despite Usmanov's public request, BBC Sport understands Arsenal remain committed to their current approach.