Rangers: Scottish Football League vote on newco on Friday 13th
Last updated on .From the section Football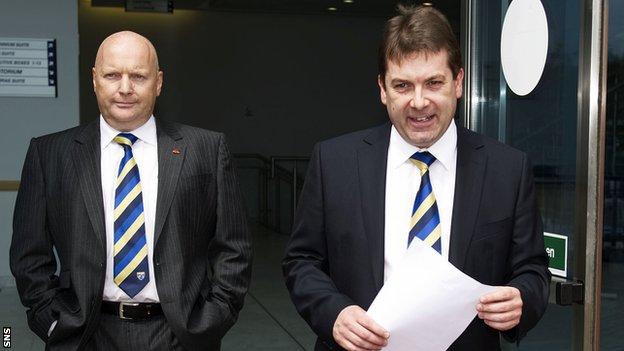 Scottish Football League clubs will vote whether to accept Rangers at a meeting on 13 July.
SFL chief executive David Longmuir confirmed the date after a board gathering at Hampden on Thursday.
"At this point, no decision has been taken by the board of the SFL or by any of our clubs," said Longmuir.
"I have every faith in the judgement of those clubs to make a considered and reasoned decision which will be in the best interests of the game."
A newco Rangers is applying for SFL membership following the Scottish Premier League's decision to reject their application.
The 30 SFL clubs met on Tuesday to discuss a proposal that would see the new Rangers enter Division One rather than starting life in the bottom tier.
The SPL are offering a £1m payment for TV rights to Rangers games and the introduction of play-offs between the top flight and Division One.
And the matter will now go to a ballot.
BBC Scotland has learned that Dundee are likely to be invited to replace the old Rangers in the SPL for next season.
And the Dens Park club say they have been advised that they will not be allowed to cast a vote on 13 July.
"Scottish Football League clubs are, over the next few days, being asked to make a crucial decision as to whether we are in a position to accommodate Rangers into the SFL," added Longmuir.
"The time has come for all outside influences and pressures to stop.
"This is our national game and part of our culture so I ask all other bodies to leave it to those who have been put in this invidious position to make a decision in the best possible interests of our game. "
Scottish Football Association chief executive Stewart Regan warned the game faced a "slow, lingering death" if the Ibrox club had to re-start in Division Three.
But Cowdenbeath were the 12th SFL club to go public with their opposition to the idea of Rangers entering Division One, with Stenhousemuir the only club to indicate support.
And Charles Green, who purchased Rangers' assets when the old club was consigned to liquidation, said on Wednesday: "If our application was to be accepted, Rangers will play in whichever division the SFL sees fit and we will move forward from there."
Longmuir explained that the first vote will be on whether the SFL can accomodate Rangers, with a simple majority required.
If that vote goes in favour of Rangers, Longmuir said it would be "supplemented by further resolutions that we would have to implement to change our rules".
He added: "Our job over the next week or so is to consult with colleagues in both SPL and SFA to make sure that what we're about to do is for the benefit and interests of the game.
"The SFL clubs clearly have choices but what we plan to do is make the choices very, very clear to them by giving them the right information and to work over the next week to pull together the plan that's going to take the game forward through this mini crisis.
"Technically, the SFA, as governing body, has the power to influence just about every decision that is taken in the game but I believe that with proper collaboration we can get everybody onside with this."