Goal-line technology could be used in Wales internationals
By Peter Shuttleworth
BBC Sport Wales
Last updated on .From the section Welsh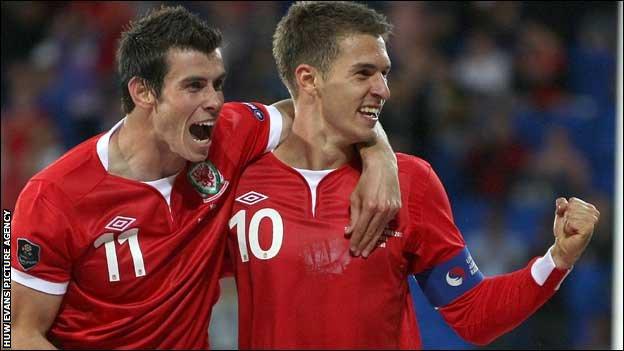 Goal-line technology could be used in Wales internationals from February 2013 after Welsh FA chief Jonathan Ford helped approve the change.
Wales host a friendly against Austria in Swansea on 6 February before a 2014 World Cup qualifier against Croatia at the Liberty Stadium on 26 March.
The at clubs, including Swansea, during the 2012-13 season.
FAW chief executive Ford said: "I'd feel comfortable using the technology."
The Football Association of Wales boss was part of the International Football Association Board (IFAB) in Zurich that unanimously passed the vote.
Two systems - Hawk-Eye and GoalRef - have passed Fifa's criteria for use and will first be used at December's Fifa Club World Cup and, if successful, at the 2013 Confederations Cup and 2014 World Cup.
The Premier League said it wanted it "as soon as practically possible" - and if the technology is available at the Liberty Stadium, home to Premier League Swansea City, the FAW wants to use it for international games.
Ford said: "We've heard the Premier League are looking to hopefully install this, subject to it being right for them from one of the two currently approved manufacturers, from as early as early 2013.
"I'd feel comfortable using the technology, but we'd have to speak to the stadium operators as there are cost implications.
"But if the technology is there as an aid to assist the referee in making that very important right decision then yes, of course, we'd need to look at it."
Ford was quoted in 2010 as saying "I'm not overly sure that goal-line technology or technology in football is the way forward" after England's Frank Lampard was denied a goal in a World Cup quarter-final against Germany.
He also added: "If you start the goal-line technology, where do you end?"
But Ford defended Wales' apparent change of stance, insisting: "What we have always said, and we have been very clear, is that ultimately we are approving goal-line technology, that assistance to that referee.
"When we had the debate two years ago in 2010, we were very clear that what we were deciding upon then was the blanket introduction of technology in the game - the discussion widened from just a goal-line technology discussion to a technology discussion.
"We have all been very clear that we are not opening the debate with regard to technology, per se, in the game.
"We do not want replay technology, football is a game that is fluid and ultimately its fluidity is its duty and we want to retain that.
"And in order to do so we need to make sure technology stays out of the game, we are simply approving technology to assist the referee when that ball has crossed that line."
IFAB was keen to stress that technology will not be used to help referees make any other decisions.
The systems will require testing after they are installed in each stadium to ensure they are working properly before they can be used, with licences lasting for 12 months.