Rangers: Ally McCoist mulls rebuilding from Division Three
Last updated on .From the section Football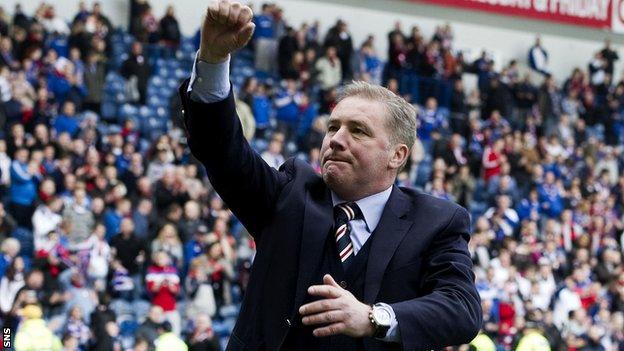 Manager Ally McCoist believes he may have a better chance of rebuilding a heavily depleted Rangers squad from the Scottish Third Division.
The Scottish Football League will vote on accepting the newco Rangers next week after the Scottish Premier League rejected their application.
McCoist has lost 10 players who have refused to join the newco.
And he told the club website: "We have to rebuild, so SFL3 would give us a better chance to rebuild."
McCoist explained that starting at the bottom was not his preference but added that the club would "accept the punishment" and highlighted that "sporting integrity" had been used by SPL clubs to justify their rejection.
He also pointed out that supporters of the Ibrox club were largely in favour of a fresh start in Division Three.
The SFL will ballot member clubs on 13 July on whether they should allocate a space to McCoist's team.
There is also a proposal that would see Rangers given entry to Division One in return for TV rights money from the SPL and the introduction of play-offs for promotion to the top flight.
On the SPL's decision, McCoist said: "Like everyone else involved at our club extremely disappointed is putting it mildly. We obviously wanted to play in the SPL.
"We are now in the hands of David Longmuir [SFL chief executive] who is certainly a man that Charles Green [Rangers chief executive] and I trust implicitly.
"He is a good honest man that I firmly believe has the best interests of Scottish football at heart, of that there is no doubt.
"Out of all the characters involved in this situation I think David and his member clubs have been very unfortunate to have been put in a position where they have to make a decision.
"Whatever decision they reach we will accept. Having said that from my meetings with our supporters, and the vast majority of SPL chairmen have been listening to their supporters, which is great, I'm all for it.
"We had a meeting with our supporters last night and the vast majority of them - in the region of 75-80% - have said enough is enough, let's go to SFL3.
"Our good friends at Celtic across the city issued a statement that stated that integrity was of paramount importance to Scottish football and we totally agree with that, and I would imagine the vast majority of all SPL chairmen agree with that statement."
SPL chief executive Neil Doncaster has said that Rangers starting at the bottom is not "a viable option" for Scottish football.
And Scottish Football Association chief executive Stewart Regan warned the game faced a "slow, lingering death" if the Ibrox club had to re-start in Division Three.
On the economic debate McCoist added: "It's the first time I have heard anyone from the SFA speak about the game in a financial sense but then we have the argument that is the financial aspect more important than the massive aspect of integrity and honesty of the Scottish game?
"They might want to put us in SFL1 with more sanctions - I don't know if that is the case.
"We have a transfer embargo hanging over us but how can I operate with a transfer embargo when I only have six players? It's impossible and it's just madness.
"I have in the region of six first team players at pre-season training right now, two of whom were regulars last season in the SPL.
"We need to bring in the region of 10, 12 or even 14 players. I reckon since January we have lost close to 21 players.
"For the record, in terms of sanctions that have been imposed already, we were deducted 10 points, we had our Champions League place taken away from us, we were fined £160,000, we are out of Europe for another three years and, of course, we are out of the SPL.
"I think that's quite a lot."